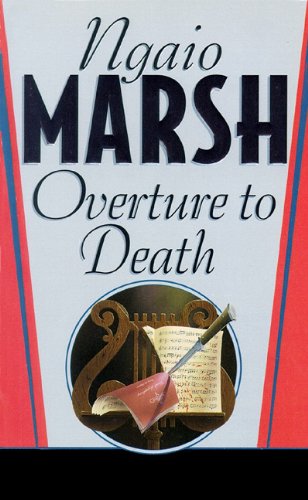 Ngaio Marsh is another new discovery for me, thanks again to the Vintage Mystery Challenge. She is one of the four original "Queens of Crime" along with Dorothy L. Sayers, Margery Allingham, and Agatha Christie, British authors who dominated the crime fiction genre in the 1920s and 30s.
Overture to Death was first published 1939, and is therefore dated, but in a charming way that doesn't detract from the basic mystery, which is as good a cozy as any I've read lately. It's an English Village mystery, where the inspector from Scotland yard is called in to investigate a murder in a small town. There are a limited number of suspects, and everyone in town has their own secrets and motives.
In this case, Inspector Alleyn, Marsh's series character, is called to Chipping after a spinster is murdered. The lead-up to the murder is very well-done. A charity play is being planned and all the character, eventually suspects, are involved in it. Marsh does an excellent job at giving us the characters, their motives, their secrets, their disappointments: the bitterness of the two spinsters, the hope of the younger couple, the memorable squire, the rector and how he tries to do what he feels he should. Alleyn is the standard detective, smart, attractive, witty, and I liked the officers who work with him.
I have to say that I liked how the killing was accomplished, and the twists and turns Alleyn makes getting to the truth. Although, Marsh does give us all the clues. She plays fair, I guess you could say. Alleyn, I don't think, ever knew more than the reader did, he just put it together better than I did.
I listened to the audio version of this one, narrated by Ric Jerome. For the most part, it was quite well-done, so much so that I kind of forgot about the narrator, it didn't stop me from getting swept up in the story. Only occasionally when the young couple were talking about their feelings for each other did it become a tad over-dramatic, but that's a small complaint.
This was my first meeting with Inspector Alleyn, but I'm looking forward to sharing more of his adventures.
Purchase at Amazon or an Indie bookstore.
10 hours, 15  minutes
First published 1939
4 out of 5 stars