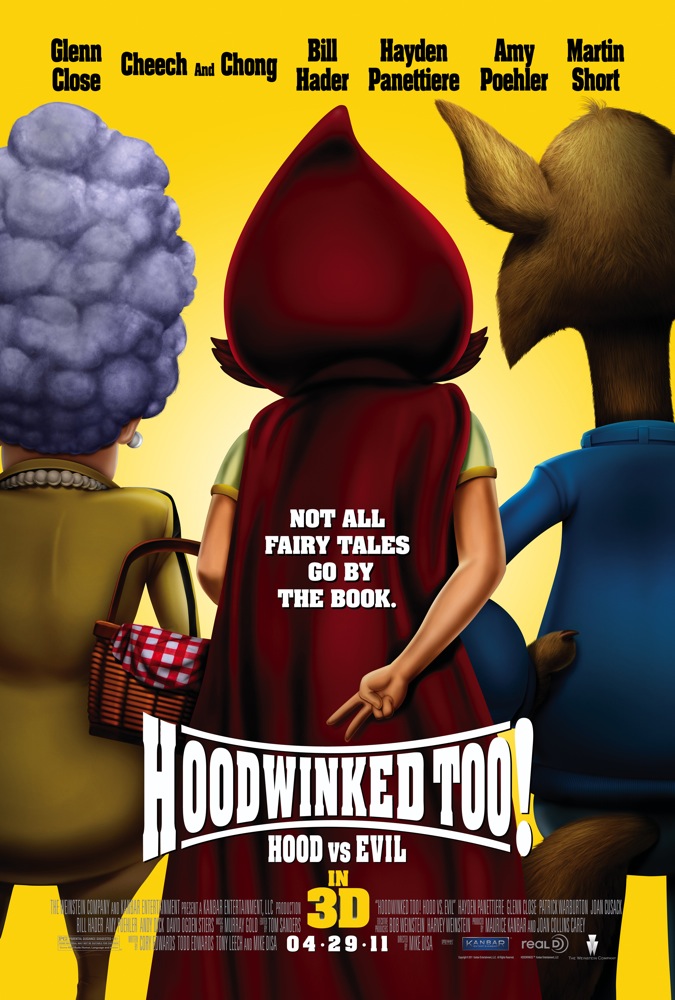 Last week, I looked at Nekane, a Red Riding Hood like character. Sticking with that theme, this week we watched Hoodwinked Too! starring none other than Red, this time a wise-cracking kung fu fighting smart girl.
Now I liked the first one, how the same story was told through several points of view, but this sequel was just okay. Red's training with the Sisters of the Hood when she is called back to the HEA (Happily Ever After Agency). Granny's been kidnapped along with two children, so Red and Wolf are paired to save her.
The plot line's goofy, it revolves around a magical truffle that can make a person unstoppable. But I do like the villains, a pair we usually consider helpless victims who barely survive their fairy tale. Here they are not innocent helpless children lured into a mistake. They are the masterminds, luring Granny into their grasp.
It wasn't an outstanding movie, but it was fun enough. Thank goodness we watched it on DVD so we didn't have to deal with the 3D. Have I mentioned how tired I am of 3D? There were a lot of pop culture references that I doubt Amber (11) got, from Silence of the Lambs to Mission Impossible. At least there's a touch of girl power, Red's one tough cookie, and a reminder that you're going to need help from your friends, just admit that you can't do everything alone.
You can purchase Hoodwinked Too! on Amazon.
Rated PG
Running time: 94 minutes.
Movie source: Rented
Thursday's Tales is a weekly event here at Carol's Notebook. Fairy tales, folktales, tall tales, even re-tellings, I love them all.