(Sorry. I had this scheduled to post while I was away for the weekend, but apparently it failed to do so.)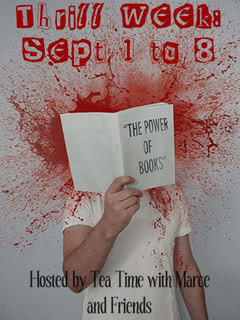 Today's the start of Thrill Week, hosted by Tea Time with Marce. It's a week full of Thrillers, Mysteries, Suspense Novels and/or Horrors, and today we're starting off with a brief questionnaire.
Thrill Ride Questionnaire
First, a quick bit about myself. I've been blogging for probably about three years now. I read all types of books, but mysteries have always been my first love and this year almost 80% of what I've read has probably fallen into the mystery/suspense/thriller category.
What have been your top 3 reads this year?  Link your reviews.
Whiplash River by Lou Berney
A Double Death on the Black Isle by A. D. Scott
A Plain Death by Amanda Flower
What are you currently reading during Thrill Week?
I'm reading Frame Up by James Phoenix and listening to The Preacher by Camilla Läckberg.
Do you have an all time favourite cover in the genres above?
No, sorry, I guess I'm just not much of a cover girl.
What debut author(s) or new to you author(s) have you read within the last 12 months that have impressed you?
I've read a lot of new-to-me authors this year. Aside from the three listed in my top reads, all of whom were new authors for me, I've enjoyed books by Alex Grecian, Andrea Camilleri, and Brian Meeks.
Favourite trilogy or series you recommend to others to read in the genres above?
My favorite series right now is definitely Louise Penny's Inspector Gamache series. I haven't read the newest one The Beautiful Mystery yet, but it's at the top of my list.
What popular author(s) have you NOT read but is on your Wishlist?
P. D. James and Jo Nesbo
Other than blogs, share with us what other tools you use or subscribe to in order to keep up with the latest news on authors, new releases, book tours, etc?
Well, I'm on the list for several companies doing virtual book tours. FictFact is good for keeping track of series, what I've read, what's coming out soon.
What current book is hyped among the blogosphere that you want to read or are not interested in?  Why or why not or link your review if you have read it.
I want to read Gone Girl. which has gotten a lot of hype. I'm not sure that I'll like it and I've never read anything by Flynn, but it sounds like an engrossing thriller about a really screwed up relationship.
What is most important in these genres to you?  Plot, characters, location, dialogue, red herrings, narrator or what mix of them?
They're all important, and different books excel in different areas. Sometimes I'll love a book for its setting, sometimes it's the chacters that really stand out. I guess plot is often rather secondary for me.
Recommend a book made into a movie when you thought both were good?  
I can't think of one off-hand. I don't tend to watch movies of books I've already read; I know I'll just be disappointed.
Recommend a book you would like to discuss with others and possibly the author?  Note – I will do a poll with participant's choices at the end of Thrill Week and then we can agree on a date for Q&A.  I will try and arrange the chosen author to participate.
The White Devil by Justin Evans is on my to-read list. The cover creeps me out, but it might be a good one to take about.