Today I'm happy to welcome Linda J. White to tell us a little about what inspired her to write Seeds of Evidence.
The Real-life Roots of Seeds of Evidence
She was an attractive woman, middle-aged, with brown eyes and brown skin and a quick smile. A visitor from India, she spoke no English, and so I heard her story through a translator.
Asha was originally from an impoverished family in Nepal. In her teens she met a woman who told her she could get Asha work as a domestic in Mumbai. It would be a way out of hopeless poverty. She would make enough money to send some back to Nepal to help her family. And so Asha decided to follow this stranger south.
In Mumbai, Asha discovered a future far different from the one she expected. She was taken to the red light district. She had been brought there to be a prostitute.
Of course she protested. She struggled and fought. But five women held her down while men raped her that first night, and she was ruined. Not even her own family would take her back. Her honor was gone.
When I heard Asha's shocking story I knew that I wanted to write a novel about human trafficking. Over 27 million men, women, and children worldwide are caught up in this modern-day slavery. They're forced to be prostitutes, or make bricks, or work as domestics, or are trapped in many other situations.
"Seeds of Evidence" begins when vacationing FBI agent Kit McGovern finds a little boy's body washing up on a Virginia island beach. Who is he? Who killed him? She teams up with a handsome D.C. cop to find the answers. Their only clues: the acorns in the little boy's pockets. Determined to seek justice for the little boy, they follow this plant DNA evidence into the dark world of trafficking.
Real-life Asha worked as a prostitute for years. One day she met K.K. Devaraj, founder of Bombay Teen Challenge. Devaraj offered her help and hope—and the assurance that God loved her. Receiving Jesus Christ, she was born into a new life, physically, emotionally, and spiritually.
Does Seeds of Evidence end well, too? You'll have to read it to find out.
About the Author:
By day, Linda J. White writes editorials for The Free Lance-Star, a newspaper in Fredericksburg, VA. By night, she plays the "what-if?" game , entangling engaging characters in "white-knuckle" plots. Her first FBI thriller , Bloody Point, was published in 2005. Seeds of Evidence (Abingdon Press) will be released in April 2013. Linda 's husband, Larry, was a video producer/director at the FBI Academy for over 27 years. Married since 1970, they have three grown children and now live with two dogs and two cats on two beautiful, wooded acres in Virginia .
You can visit Linda's website at www.lindajwhite.com .
Connect with Linda! Twitter | Facebook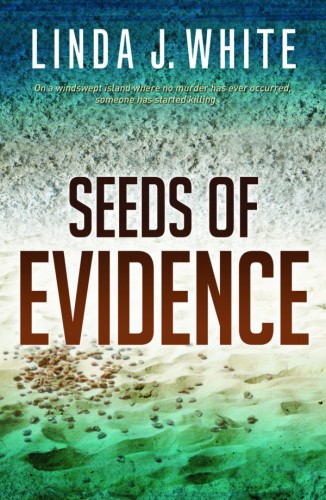 About the Book:
Stressed-out FBI Special Agent Kit McGovern returns to her grandmother's Chincoteague Island home in search of peace. But when a little boy's body washes up on the beach, Kit cannot resist throwing herself into the mystery of his murder. Her only clues: the tomato seeds in the Latino boy's gut, and the acorns in his pockets.
The medical examiner points out that the volume of tomato seeds in the boy's gut could indicate he was from a farm worker's family. But the acorns? Kit discovers they're from a Virginia live oak, not native to the area where the boy was found. Can she use those to identify his origins anyway? And why hasn't anyone reported him missing?
Kit meets David O'Connor, a D.C. homicide detective in Chincoteague recovering from a shooting incident. She makes it clear she's not interested in a relationship, but their passion for justice is mutual and they soon forge a partnership to find the boy's murderer. As plant DNA evidence leads them straight into the dark world of human trafficking, Kit and David wrestle with the depths of human evil, with questions of faith, and with possibilities for hope. Seeds of Evidence takes readers on a white-knuckle ride they won't soon forget.
Purchase Your Copy: Amazon | Book Depository | IndieBound