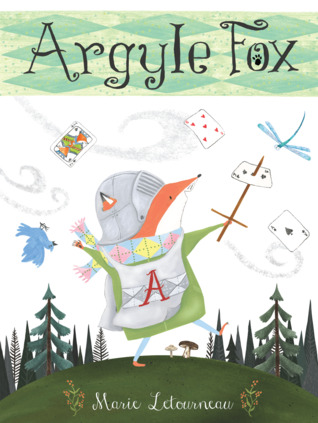 Argyle Fox
by
Marie Letourneau
Published by
Tanglewood
on March 14, 2017
Source:
NetGalley
Genres:
Picture Book
Pages:
32
Purchase at
Bookshop.org
Add on
Goodreads
Argyle Fox, with his signature style, wants to play outside on a springtime day, but the wind is wreaking havoc with his fun and games. As soon as he builds a card tower, climbs into a giant spider web, or takes up his pirate sword, here comes the wind: Woosh!

Mama Fox tells grumpy Argyle that if he thinks long enough, he will come up with something to do. Following his mother's suggestion and inspired by her knitting, he works all the pieces of his day together and creates the perfect solution.

The story of Argyle teaches that failure is often a path to success and celebrates perseverance, creative thinking, and an old-fashioned springtime activity.
We woke up this morning to more snow and cold temperatures. Ohio's weather has been crazy lately. I swear it was almost 60 yesterday. I needed some spring and Argyle Fox provides just that. It's a windy spring day and Argyle Fox wants to play outside, but the wind ruins everything he tries to do, until he comes up with a solution.
It's a fun cute book. I like the ingenuity it encourages. On the other hand, I don't think wind should really ruin playing pirate or knight and I don't think it was nice for the other woodland creatures to discourage his imaginative play. You don't need a cardboard castle to pretend to fight a dragon. Or a paper hat to be a pirate. And I'm pretty sure building a tower of cards outside is never a good idea.
But, if the wind hadn't made him grumpy during his other games, he wouldn't have been able to figure out the perfect thing to play with or have been able to share his idea with his friends.
I like the illustrations.  The colors are nice, not overly bright, but not dull either. The cover gives a good example of the style. I also like how the pictures show us what happens when the wind blows, the text doesn't have to.
It's a good spring book and I think kids will be able to relate to Argyle Fox. He plays games they're familiar with and I can even see using his "project" as a start for one of your own.