Mailbox Monday is the gathering place for readers to share the books that came in their mailbox during the last week. Warning: Mailbox Monday can lead to envy, toppling TBR piles and humongous wish lists.
Tell us about your new arrivals by adding your Mailbox Monday post to the linky at mailboxmonday.wordpress.com.
I picked up one on NetGalley. I've read one in this series before and enjoyed it enough to pick up another.
Murder in the Mill-Race
by
E.C.R. Lorac
Series:
Robert MacDonald #36
Published by
Poisoned Pen Press
on August 6, 2019 (first published 1952)
Source:
NetGalley
Genres:
Vintage Mystery
Pages:
256
Format:
eBook
Purchase at
Bookshop.org
Add on
Goodreads
When Dr Raymond Ferens moves to a practice at Milham in the Moor in North Devon, he and his wife are enchanted with the beautiful hilltop village lying so close to moor and sky. At first, they see only its charm, but soon they begin to uncover its secrets—envy, hatred, and malice.

Everyone says that Sister Monica, warden of a children's home, is a saint—but is she? A few months after the Ferens' arrival her body is found drowned in the mill-race. Chief Inspector Macdonald faces one of his most difficult cases in a village determined not to betray its dark secrets to a stranger.
I purchased this audiobook through Chirp for cheaper than an Audible credit.
The Hunting Party
by
Lucy Foley
Published by
HarperAudio
on February 12, 2019
Source:
Purchased
Genres:
Mystery
Length:
10 hrs 8 mins
Format:
Audiobook
Purchase at
Bookshop.org
or Purchase at
Amazon
Add on
Goodreads
During the languid days of the Christmas break, a group of thirtysomething friends from Oxford meet to welcome in the New Year together, a tradition they began as students ten years ago. For this vacation, they've chosen an idyllic and isolated estate in the Scottish Highlands—the perfect place to get away and unwind by themselves.

They arrive on December 30th, just before a historic blizzard seals the lodge off from the outside world.

Two days later, on New Year's Day, one of them is dead.

The trip began innocently enough: admiring the stunning if foreboding scenery, champagne in front of a crackling fire, and reminiscences about the past. But after a decade, the weight of secret resentments has grown too heavy for the group's tenuous nostalgia to bear. Amid the boisterous revelry of New Year's Eve, the cord holding them together snaps.

Now one of them is dead . . . and another of them did it.

Keep your friends close, the old adage goes. But just how close is too close?
And I picked up two at a church book sale while I was out of town a couple of weeks ago.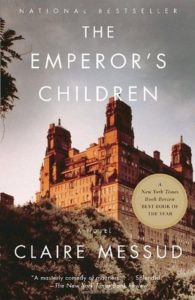 The Emperor's Children
by
Claire Messud
Published by
Vintage Books
on June 26, 2007
Source:
Purchased
Genres:
Fiction
Pages:
479
Format:
Paperback
Purchase at
Bookshop.org
or Purchase at
Amazon
Add on
Goodreads
The Emperor's Children is a richly drawn, brilliantly observed novel of fate and fortune—about the intersections in the lives of three friends, now on the cusp of their thirties, making their way—and not—in New York City.

Friends at Brown University, Marina, Danielle, and Julius are still looking to make their marks as they approach their 30s. Marina lives with her celebrated parents on the Upper West Side while trying to complete her book. TV producer Danielle's success is due to the puff pieces she churns out. Freelance critic Julius can barely make ends meet. Into this mix comes Bootie, Marina's college dropout cousin, who is just the catalyst the three friends need to start making significant changes in their lives.

In this tour de force, Claire Messud brings to life a city, a generation, and the way we live in this moment.
A Scandal in Belgravia
by
Robert Barnard
Published by
Poisoned Pen Press
on February 1, 2000 (first published 1991)
Source:
Purchased
Genres:
Mystery
Pages:
256
Format:
Paperback
Purchase at
Bookshop.org
or Purchase at
Amazon
Add on
Goodreads
Murder pays no respect to rank...or the neighborhood. And so it happened that young aristocrat Timothy Wycliffe was bludgeoned to death in his elegantly furnished flat in Belgravia by a person or persons unknown. Unknown, in fact, for 30 years.Then the dead man's friend Peter Proctor -- once a young man on his way up in the diplomatic service, now a retired Member of Parliament -- seeks an antidote to boredom by attempting to write his own memoirs. Unfortunately, they seem to be creating more problems than he anticipated, and not just of the writer's-block variety. Peter keeps getting sidetracked by speculations on Timothy's death. The murder was allegedly accomplished by a beating from one of his boyfriends. But Peter can't accept so simple a solution, so he begins to probe the past. In so doing, he opens a fascinating window on British society during the 1950s and its changing -- and unchanging -- mores since.