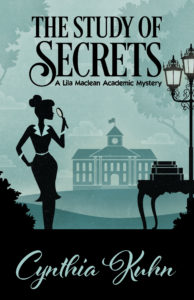 The Study of Secrets
by
Cynthia Kuhn
Series:
Lila Maclean Academic Mystery #5
Published by
Henery Press
on May 26, 2020
Source:
Purchased
Pages:
242
Format:
eBook
Purchase at
Bookshop.org
Add on
Goodreads
There could be nowhere more fitting for English professor Lila Maclean to spend her sabbatical than in a proper Victorian mansion. The whimsical Callahan House seems to have materialized from the pages of the mystery novels she is researching, with its enchanting towers, cozy nooks, and charming library. Unfortunately, it also features a body in the study.

Residents of Larkston have long believed that the Callahan family is cursed--the murder on the estate sets the town buzzing. Wild rumors are fueled by a gossipy blogger who delights in speculation, and further crimes only intensify the whispers and suspicions. A newly discovered manuscript, however, appears to expose startling facts beneath the fictions. When Lila steps in to sort the truth from the lies, it may cost her everything, as someone wants to make dead certain that their secrets stay hidden.
Lila Maclean has been taking a fall semester sabbatical, staying with family friend Bibi Callahan while finishing up her book on mystery author Isabella Dare. Bibi is actually Isabella, but no one aside Lila knows that. Lila, Bibi, and a few of Bibi's friends meet one evening for a book discussion. By the end of the evening, one of the women is murdered and an unpublished manuscript is missing. Bibi asks Lila to help figure out who the killer is, but the murder has ties to secrets in Bibi and her friends' pasts, secrets they don't necessarily want brought to light.
The new characters are an eclectic bunch, with complicated relationships dating back to when they were children. Lila is her usually smart, suspicious self and we get to see some of the recurring characters too. The Callahan House isn't far from Stonedale after all.
This is a fun mystery with a great heroine and a well-crafted plot. There were plenty of suspects and possible motives, which kept me guessing. And this is the last of the Lila Maclean mysteries, all of which I've read this month. They were enjoyable. If you go back through my posts this month you'll see the others. Each can be read as a stand-alone, but they definitely work better together. The ending of this one, a sweet surprise on Christmas morning, was perfect.