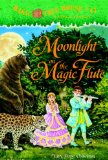 Moonlight on the Magic Flute (Magic Tree House #41) by Mary Pope Osborne
Description:
Jack and Annie head to 18th-century Austria, where they must find and help a brilliant artist. Decked out in the craziest outfits they've ever worn—including a wig for Jack and a giant hoopskirt for Annie!—the two siblings search an entire palace to no avail. Their hunt is further hampered by the appearance of a mischievous little boy who is determined to follow them everywhere. But when the boy lets the animals out of the palace zoo, Jack and Annie have to use the only magic at their disposal to save themselves and the naughty little fellow.
My thoughts:
Amber and I read this together, like we have all the Magic Tree House stories. I'm going to be sad when she gets too old for them. Heck, I might just have to keep reading them on my own. In this one, Jack and Annie are off on another great Merlin mission. This time they have to bring happiness to millions of people. Jack's a little grumpy, because of his outfit and because they don't have a research book with them this time around, but in the end the mission works out perfectly. The books in this series are always exciting and fun, but you learn something, too. In this case, we learned about a famous composer. I'm sure you can guess who by the title.