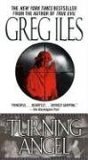 Turning Angel by Greg Iles
Description:
After winning the most dangerous case of his career, prosecutor Penn Cage decides to remain in his Southern hometown to raise his young daughter in a safe haven. But nowhere is truly safe — not from long-buried secrets, or murder….When the nude body of prep school student Kate Townsend is found near the Mississippi River, Penn's best friend, Drew Elliott, is desperate for his counsel. An esteemed family physician, Drew makes a shocking confession that could put him on death row. Penn will do all he can to exonerate Drew, but in a town where the gaze of a landmark cemetery statue — the Turning Angel — never looks away, Penn finds himself caught on the jagged edge of blackmail, betrayal, and deadly violence.
My thoughts:
It turns out Penn's friend, Drew, was sleeping with the murder victim, which is the shocking confession. Unfortunately, that's not the only shocking revelation that occurs in the book. Drugs, racism, adultery, and political scheming are all hiding behind the town's doors.
Iles writes gripping novels. This is the third I've read and I've been engrossed in each of them. This one did stall for me towards the end, but I think that was more due to my mood than the story.
The most disturbing part of the book for me was the teenagers, what they did, thought and said. Sex, drugs, porn, violence. It felt realistic, but I'm worried about how much more teenagers deal with and play around with now than they did even 15 years ago. I can only imagine what I'll have to be worried about Amber getting into when she's in high school. Like Mia, one of the characters, says, maybe they do have too much freedom. Where' s the line? And the teenagers in this book are smart, private school kids, in a town that's losing population. Maybe that was partly why the book was troubling for me, too. The town we live in may not be in the South, but there can still be racial divisions, politicians, including sheriffs, who can run amok, plants that are idled indefinitely. Most of the people I graduated with moved away, and a lot of the people who stayed have to make the commute to Pittsburgh every day. What's the town going to be like when our kids grow-up?