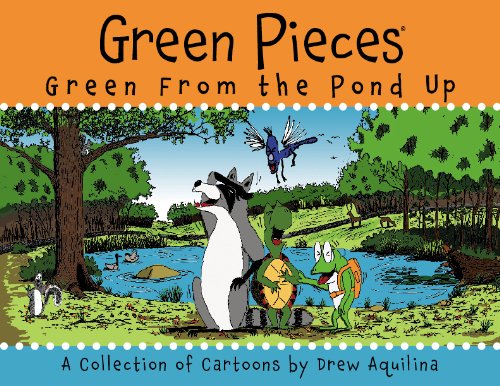 Green Pieces: Green From the Pond Up by Drew Aquilina
This is a collection of cartoon strips set in a pond where led by a claustrophobic turtle named Iggman, the action picks up once humans leave the scene.  Iggy and his friends including an annoying dragonfly, Radic, an omnipotent techno-bullfrog, Cabby, and a rogue raccoon, Roc, give us an entertaining perspective on nature.
While for me the cartoons were not laugh-out loud funny, I may be in the minority, and I certainly see the value of the collection. It's a fun way of incresnig awareness about the environment, of teaching kids, and adults, to respect nature, seeing the world from the viewpoint of these quirky characters. Laughing and learning are a great combo. And the strips are amusing. I especially loved Iggy; he and his shell manage to get into all kinds of situations.
Publish date: September 4, 2010
197 pages
[tweetmeme source="carolsnotebook" only_single=false http://carolsnotebook.com/2010/07/07/green-pieces-by-drew-aquilina/]
I received my advance review copy from the author and the above is my honest opinion. I am an Amazon associate.