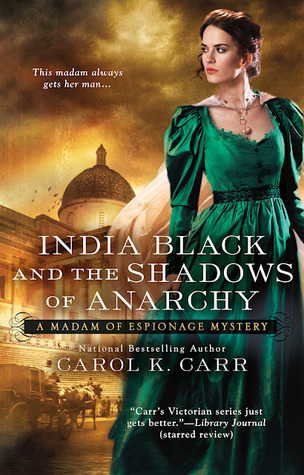 Title: India Black and the Shadows of Anarchy (Madam of Espionage #3)
Author: Carol K. Carr
Published: February 5, 2013 by Berkley
Category: Espionage/Intrigue
Rating: 4½ out of 5
Add: Goodreads
Purchase: Amazon | IndieBound | Book Depository
In Victorian London, India Black has all the attributes a high-class madam needs to run a successful brothel–wit, beauty, and an ability to lie with a smile. Luckily for Her Majesty's Government, all these talents also make her a first-rate spy…
India Black, full-time madam and occasional secret agent, is feeling restless, when one of Disraeli's men calls on her to meet the prime minister–alone. Even though all her previous meetings have been organized by the rakishly handsome spy French, it's been decided this is a mission India must attempt on her own.
Revolt has spread across Europe and reached the shores of England–anarchists have begun assassinating lords and earls, one by one. Now India must infiltrate the ranks of the underground group responsible for those attacks, the sinister Dark Legion. To stop their dread plot, India will go from the murkiest slums of London to the highest levels of society, uncovering secrets that threaten her very existence…
I adore India Black. Yes, she's a brothel owner, but she decent to her girls, keeps them fed, healthy and well-dressed. It is after all good for business and she is, if nothing else, a good businesswoman. She's smart, has an acerbic wit, and can take care of herself. India Black and the Shadows of Anarchy, like the rest of the series, is told from India's point of view the tone is just perfect.
People are entitled to their secrets, but that rule, in my opinion, does not apply to French, or come to think of it, to men in general. Certainly women are permitted to hold a few cards close to the vest. The last time we admitted to any curiosity or confessed to sampling an apple, we were slapped down pretty hard. . . Yes, women have always had secrets and always will. I'm afraid men would be very distressed to learn what their sweet darlings were thinking. Frankly, I don't think men are strong enough to bear the shock. But I digress. (47%)
India is tasked with gaining information about an anarchist cell – anarchists are apparently causing mayhem across London, killing peers and causing general fear among the higher ranks. India begins, reasonably, by luring a girl who is known to associate with the anarchists away from another house to join the Lotus House. Soon, however, India realizes that to get all the information she and the government need, she must infiltrate the cell herself, putting her own life in danger should she be discovered.
I don't know how historically accurate the novel is, and truth be told I don't care. It's fun, it makes me laugh and read bits out-loud to my husband, it's fast-paced. It's kind of like James Bond movie, except make him a woman of rather questionable morals and plunk her down in a stinky, dirty Victorian London. And instead of having a Bond girl, India has French, sexy, a bit mysterious, a government agent who she certainly has sparks with.
And I thought the ending was just perfect, but I don't want to give it away.
Almost forgot to add that even though this is the third in the series, it would work okay as a stand-alone, although reading the others first will only increase your enjoyment of this one.
Madam of Espionage Mysteries
1.     India Black
2.     India Black and the Widow of Windsor
2.5  India Black and the Rajah's Ruby
3.    India Black and the Shadows of Anarchy
Challenge: WAYR