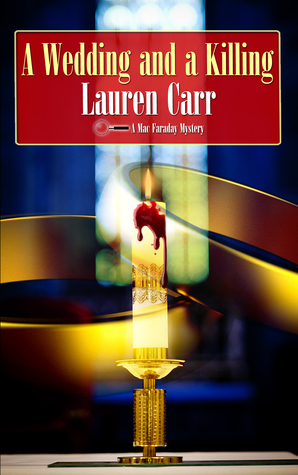 A Wedding and a Killing
by
Lauren Carr
Series:
Mac Faraday Mystery #8
Published by
Acorn Book Services
on Sept 13, 2014
Source:
Pump Up Your Book!
Genres:
Mystery
Pages:
326
Format:
eARC
Purchase at
Bookshop.org
or Purchase at
Amazon
Add on
Goodreads
When Mac Faraday decides to do something, there's no stopping him … even murder!

Not wanting to wait until their big day to start their life of wedded bliss, Mac Faraday and his lady love, Archie Monday, decide to elope to the little church where his ancestors had all married—along the tranquil shore of Deep Creek Lake. However, before they can say, "I do," the sanctuary erupts into chaos when Gnarly finds a dead body in the church office.

As they dive into the investigation, Mac and his team discover more questions than answers. What kind of person walks into a church and shoots a man for no apparent reason? How do you solve the murder of a man who has no enemies in the world? Which of the seemingly kind-hearted church members is really a cold-blooded killer?

Then, there is the all-important question, how long do Mac Faraday and his lady love have to wait to get married?
Earlier today, you got to read a bit about Mac Faraday's life from his point of view. My first meeting with him and Archie Monday, his girlfriend was in A Wedding and a Killing. At #8 in the series, it worked fine as a stand-alone for me, although I may have enjoyed it a little more had I known the characters longer. I find that with a lot of series books, they work on their own, but they work better as a whole. I have to admit that when I saw this was touring, I decided to read it because I enjoyed Lauren Carr's  guest post in May, "My Mother Isn't a Psychopath, She's a Mystery Writer," so much. It was funny and true and gave me high hopes for her stories.
A Wedding and a Killing was a quick read and I really like Mac. He's a good guy, a little gruff around the edges, but a hear of gold, so to speak. He's also rich, but it's inherited, he didn't grow up with money and doesn't seem to have let it take over his life. He's a private detective who apparently works on a contract basis with the police – helps that his friend/half-brother, David O'Callaghan, is the chief. David's focused on his job and may have a bit of an issue with wanting to be better at solving crimes than Mac is.
The mystery is interesting. Who killed Eugene, the head of the trustees, a nice, competent, well-liked man? Of course, the suspects are all church members, several of whom have their own secrets and motives. There were several clues spread around, but the actual solving of the case had a few twists and turns. Solving the case(s) is definitely a team effort, each of the main characters contributes in some way, even the dogs.
I'm not sure if this is typical of Carr's mysteries or came up this time around because of the church setting, but I'd say this is verging on a Christian mystery. Several characters are very faithful, others questioning. I felt it was handled honestly and appropriately and never turned preachy, but I know some mystery readers like to be warned ahead of time when the mystery takes an unexpected religious turn. I also thought there was a moral stance taken when it comes to homosexuality which bothered me – the only gay man is portrayed very badly, and found in a dead in a "den of degradation."
I expected it to be funnier, actually. The one dog, Gnarly, is a hoot, dangerous but hilarious. Aside from that though, it's a light mystery, but not amusing. I think I'd like to get to know Mac and his friends/family a bit better. I bet they grow on you.