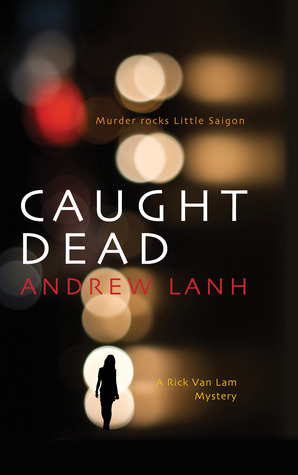 Caught Dead
by
Andrew Lanh
Series:
Rick Van Lam #1
Published by
Poisoned Pen Press
on November 4, 2014
Source:
Poisoned Pen Press
Genres:
Mystery
Format:
eARC
Purchase at
Bookshop.org
Add on
Goodreads
One of the beautiful Le sisters is dead.

Hartford, Connecticut's small Vietnamese community is stunned. Mary Le Vu, wife of a poor grocery-store owner, died gunned down in a drive-by. Her twin sister insists dutiful Mary "wouldn't be caught dead" in that drug-infested zone. The police rule it an unlucky accident. Skeptics hire private eye Rick Van Lam to get to the truth.

Amerasian Rick—his father an unknown US soldier—is one of the boi doi, children of the dust, so often rejected by Vietnamese culture. But his young sidekick, Hank Nguyen, a pureblood Vietnamese, can help Rick navigate the closed world of Little Saigon. Surrounded by close friends—a former-Rockette landlady, his crusty mentor, and his ex-wife Liz—Rick immerses himself in a world that rejects him—but now needs his help. Especially when a second murder strikes in Little Saigon.

Rick and Hank delve into the families of the Le sisters, one poor, one very rich, and uncover a world of explosive ethnic tension and sinister criminal activity ranging from Hartford's exclusive white suburbs to the impoverished inner city. To solve the murders—and bring closure to Mary's grieving circle—Rick looks to long-buried memories of his Buddhist childhood for the wisdom that will lead him to a murderer.
I like this mystery a lot. Mysteries are often not only about the whodunit, but about the issues and cultures surrounding the case, and this one is as much about the Vietnamese community as it is about who killed Mary and why. The older Vietnamese, mostly immigrants, are trying to hold on to their culture, while their grown children are losing the connection to the traditional ways. Rick is not fully accepted by the community, but Hank, his sidekick, is and it is at Hank's family's request that Rick is investigating.
The characters are the strong point of the book for me. Mary and her family are not rich, but her sister and her sister's American husband certainly are. The children, in their late teens and early 20s, are a mixed lot, mostly self-centered, unwilling to cooperate. In the end, though, greed and love are what it comes down to – and fear.
Each has his or her own goals, secrets, and ambitions. For some, it's to see their children do well, for others it's to make money, pure and simple. Rick does a lot of interviewing the family members, while his friends pull strings to get evidence like bank records. Rick is not one of those loner detectives, he's got plenty of people at his side. Hank is young and a bit emotional, but his goal is to work in law enforcement and he's a smart guy. Rick's still close to his ex-wife, who helps when she can, and he has a crusty business partner who calls in favors, one of those guys who pretends he doesn't want to help, but really does. and they all get together for dinner occasionally, which is fun.
This is not a quick-paced mystery. There's a lot of talking and going over the same ground again and again, looking for new angles. There are bits of Buddhist philosophy thrown in and some fabulous food. It is about the people more than the clues and I enjoyed the look at a culture I don't often read about. Rick is unique, stands out a bit from the usual detectives.