So, here are my steps for the week. I hit my goal for the week overall if not each day.
I'm giving up on any kind of plan for now. I'm just too busy to stick with it. Mid-July, it should settle down a bit. My goal is to get in at least 8,000 steps a day, 50 crunches and 10 (girly) push-ups. The rest'll just be icing.
My week:
Tuesday – 45 mins of yardwork
Wednesday – 20 min walk with the dog, 50 crunches, 10 push-ups
Friday – Does walking around an amusement park count as exercise? 🙂
Sunday – 40 minutes of yard work
Monday – 50 crunches, 10 push-ups, 20 mins yard work, short walk with the dog
I'm down 10.8 lbs from 5/19. I need to up my exercise and watch what I eat.
I think I want to do the Montour Half-Marathon September 15. I haven't signed up yet, but that gives me about 6 weeks to get ready. I really need a goal or I just let things slack. Here's my plan. It's a combo of the one I did last spring and one I found at Women's Health Magazine.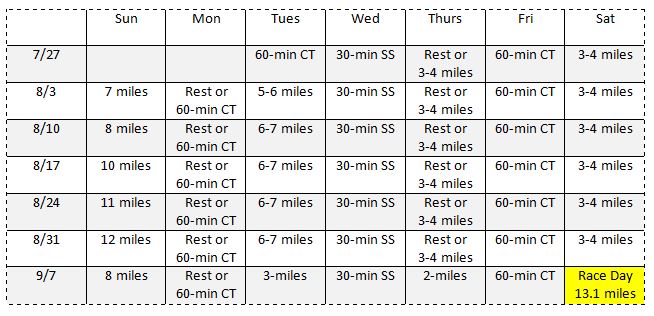 I usually listen to a book while I'm running or walking. The week I finally finished Natchez Burning. Yesterday I started listening to The Fold by Peter Clines.
How was your week? Readers' Workouts is hosted by Joy at Joy's Book Blog. Thanks!