So, here are my steps for the week. I hit my goal for the week overall if not each day.
Here's my current plan. I haven't signed up for the race yet, but I'm still planning on it.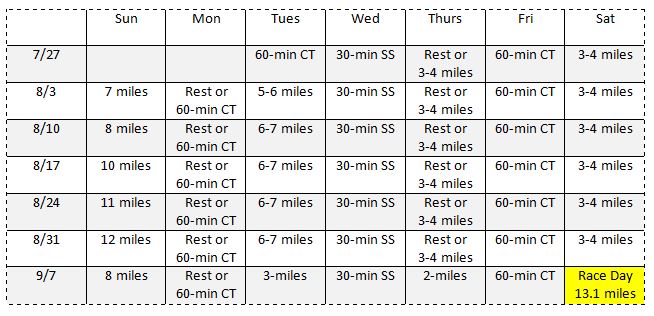 CT stands for cross-training, SS stands for stretching or strength-training.
My week:
Tuesday – 65 minutes on the recumbent bike (13 miles)
Wednesday – Short walk with the dog, 30 mins of yoga
Thursday – 4 miles on the treadmill (3¼ running, ½ walking warm-up, ¼ walking cool-down)
Friday – 60 minutes on the recumbent bike (11+ miles)
I'm down 11 lbs from 5/19.
I usually listen to a book while I'm running or walking. The week I finished The Fold by Peter Clines. I also admit I spent more time on the bike than the elliptical because it was easer to read Once Upon a Scandal by Julie LeMense that way.
How was your week? Readers' Workouts is hosted by Joy at Joy's Book Blog. Thanks!