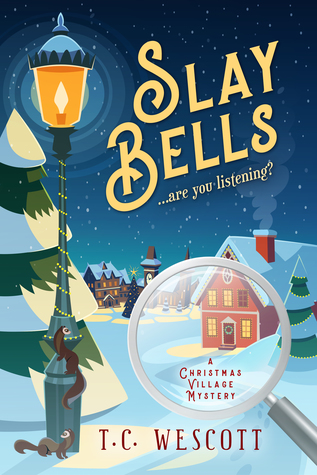 Slay Bells
by
T.C. Wescott
Series:
Christmas Village Mystery #1
Published by
Better Mousetrap Books
on November 23, 2018
Source:
NetGalley
Genres:
Christmas
,
Cozy Mystery
Format:
eARC
Purchase at
Bookshop.org
Add on
Goodreads
Welcome to Christmas Village, a magical hamlet where even in December the roses hold their luster and bees buzz among the bluebells. You're just in time for the week-long Christmas Festival, and nowhere is Christmas celebrated with such unrestrained merriment as the village which bears its name. Mayor Cobblestone and Sheriff Fell will be somewhere nearby, doing all they can to make sure you're safe during your stay.

Provided you haven't booked a room at Plum Cottage.

Nestled betwixt an opulent garden with meandering footpaths and an ancient grove of plum trees, Rose Willoughby's boarding house is plum-full with lodgers. There are no vacancies, but just wait. Soon there will be one…and another…and another.

Presently lodging at the cottage are: the juggler, the acrobat, the magician, the psychic, the strongman, the manager, and the pretty assistant. In town as festival entertainment they've each brought their own bag of tricks. And a closetful of skeletons.

When the entertainers begin dying in inexplicable ways, some villagers believe a beast from old village lore is the culprit. The sheriff knows better, but he's just as helpless to catch the invisible killer as are the town folk with their eyes to the sky in search of a flying creature. But our mysterious murderer hasn't counted on yet another lodger coming to the cottage: Maribel Claus.

Short as a stump, round as a wheel, sweet as a candy cane, and a sharp as a whip, Maribel loves a good puzzle. But has she finally met her match at Plum Cottage?

Can you figure out whodunit before Maribel does? If you're up to the challenge, here's your first clue—the key to unlocking the secret of the murderer's identity lies in figuring out how the murders were committed. Good luck!

If you're looking for a fun, baffling read that's cozier and more mysterious than the usual fare, replete with diagrams of the murder scenes and a one-of-a-kind BOOK GROUP CHALLENGE, then Slay Bells is the perfect gift to buy yourself this Christmas.
Slay Bells by T. C. Wescott was one of the books I finished on New Year's Eve. I had two current reads that I wanted to finish before the end of the year, which I did, this one and Hercule Poirot's Christmas. They winded up my year's reading and my Christmas books.
Slay Bells is probably the most Christmassy mystery I've read. It takes place in Christmas Village during the annual Christmas festival and stars Mrs. Maribel Claus as our amateur detective. She has plenty of time on her hands this time of year, since her husband is so busy in his workshop.
The entertainers lodging in Plum Cottage are hired for the festival, but then one of them is murderer in a rather mysterious way. The actual villagers are never suspects. The killer is obviously a member of the troupe, no one else could have a motive.
I loved the holiday atmosphere, the customs and stories of Christmas Village. The characters are fun and quirky, although Sheriff Fell doesn't seem terribly competent. I did like Mrs. Claus's ferrets though. The clues were well-done and the wrap-up handled well.
The book has a reading guide in the back, but it's a little different than usual. It's divided into chapters and you/your book group is encouraged to read the chapters indicated then look at the questions related to them. In theory, they should help you figure out who the killer was. It's a neat idea, but I didn't do it. Maybe I should have, maybe I would have known who the murderer was.
This is a perfect read for the holidays. I'm hoping #2 will be out next Christmas.