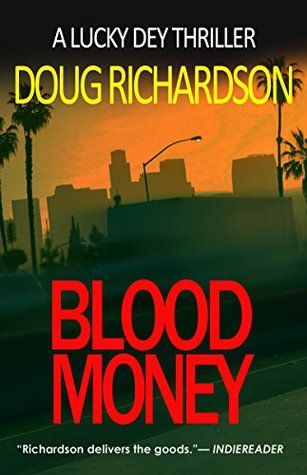 Blood Money
by
Doug Richardson
Narrator:
Tim DeKay
Series:
Lucky Dey #1
Published by
the author
on August 5, 2016
Source:
the author
Genres:
Thriller
Length:
9 hrs 34 mins
Format:
Audiobook
Purchase at
Bookshop.org
Add on
Goodreads
When Deputy Lucky Dey discovers his little brother has been murdered, he'll stop at nothing until he takes down the cop-killer. Lucky finds himself in L.A., trapped in a storm of media and political interference. The entire city is whirling in the wake of a major star's fatal accident and people want a story—a story that might be more tangled than anyone ever imagined. With peril and mayhem around every corner, the risk-addicted cop might not be so lucky this time around.
Blood Money is an action-packed thriller with plenty of violence—it's not surprising to learn the author is also a screenwriter of action movies. The book is non-stop, it never gives you time to breathe.
There are several people whose lives intersect in disastrous ways. Few of the characters are likable, but you get their motives.
Lucky Dey is out for revenge against the man who killed his brother, if he can find him. He is relentless and is basically a renegade cop at this point. He is hard to like. He's mean and single-minded and just a tough guy. He is joined by Lydia "Gonzo" Gonzalez, his "chaperone" from the LAPD, who is my favorite character. She's a single mom who realizes how close to out of control Lucky is, but still hangs on for the ride. Lucky's interactions with Gonzo and her son let you see his softer side a bit, which helps.
The man Lucky is hunting is a former marine with a plan to make some quick money by stealing frozen blood products; loading them up on a refrigerated tractor-trailer; driving the cargo from Reno to the Port of Long Beach; and collecting a million dollars. Of course, the plan runs amok, lots—and I mean lots—of people end up dead, property is destroyed. We see his thought process and actions the whole time and know the whole thing is not going to end well.
I was provided a download of the audiobook, which should be available through Audible soon. The narrator did a good job. There are a lot of characters and he made them all sound believable without overdoing the drama. In a book so full of over-the-top action, he keeps it from feeling overblown.
For the most part, I enjoyed Blood Money. It got a little long for me. Maybe long is the wrong word. I think the pacing could have varied a bit, constant action gets a little tiring. With so many characters and so much action, you never really got a chance to know any of them. All things considered though, it's a gripping story and definitely worth picking up if you're looking for a good thriller.