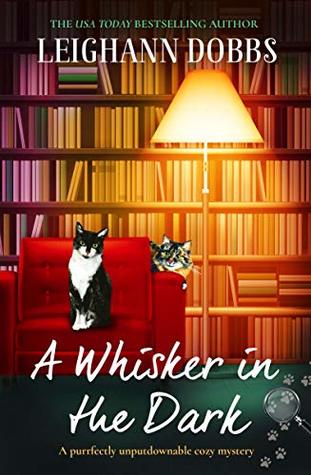 A Whisker In The Dark
by
Leighann Dobbs
Series:
Oyster Cove Guesthouse #2
Published by
Bookouture
on July 31, 2019
Source:
NetGalley
Genres:
Cozy Mystery
Pages:
233
Format:
eARC
Purchase at
Bookshop.org
or Purchase at
Amazon
Add on
Goodreads
Discovering the 300-year-old skeleton of shipping tycoon Jedediah Biddeford in the ballroom wall is a big old hassle for Josie Waters, owner of the Oyster Cove Guesthouse. Especially when Biddeford's descendants turn up, certain that a family legend about treasure buried nearby must be true.

Josie is too busy dreaming up the perfect cake for the Oyster Cove's 250th anniversary celebration to worry about the Biddeford family – plus half the town – digging up her yard... until one of her guests is murdered in the guesthouse garden.

With worries that her guesthouse will get a reputation for being the kind of place you only leave in a body bag, Josie must put her detective skills to work to find the killer. Lucky for her, Nero and Marlowe and their gang of cat sleuths are also on the case.

From the old wharf, to the town common, to the guesthouse itself with its many nooks and crannies, the cats are sure to sniff out the killer… but can they help Josie stop the person behind the mysterious murder before they strike again?
A Whisker in the Dark was a fun, easy, silly read. Josie owns a guesthouse where people keep ending up dead. Well, this time around the first dead body is a skeleton from 300 years ago, but we end up with a murder soon enough—and it's probably no surprise with so many folks thinking there's a treasure buried on the guesthouse's property.
So, the cats, Nero and Marlowe and their friends, are the real detectives here, although Josie does some investigating too. In Josie's defense, she's got a lot on her mind, with running the guesthouse, trying to learn how to cook, and flirting with the building inspector. The cats are pretty darn smart, and cats can get into places people can't and eavesdrop without being noticed. I'm still getting used to the cats talking to each other, but it does make the series stand out.
The book is really about the characters, both human and feline. The mystery itself is a little simple to solve. Happily, I enjoy Josie and her cats. It's fun to hang out with them for a while, although I don't think I'd want to stay at the Oyster Cover Guesthouse. Between the food and the possibility of ending up dead, it's doesn't seem like the best vacation spot.
This counts as 4 pts in the COYER Treasure Hunt (a book featuring an animal prominently in the story).