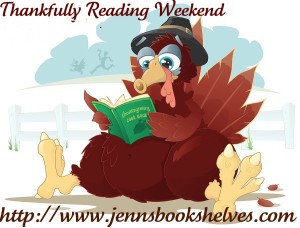 Thankfully Reading Weekend, hosted at Jenn's Bookshelves, starts today. Yes, I'm working today, but it's quiet here and I can probably spend some time listening to an audiobook. There are no rules to the weekend, we're simply hoping to devote a good amount of time to reading, and perhaps meeting some of our reading challenges and goals for the year. And any amount of time reading is fine, whether it's one hour or all day. Our hashtag is #thankfullyreading.
I don't know how much time I'll have for reading this weekend, but I'm sure I'll be able to fit in some. Amber comes home tonight and we'll drive her back to college on Sunday afternoon. In between, there's Thanksgiving dinner at my mom's and decorating for Christmas. We may even get some Christmas shopping in.
I'm starting in the middle of Lord James Harrington and the Christmas Mystery by Lynn Florkiewicz on audio and The Christmas Card Crime and Other Stories edited by Martin Edwards on my Kindle.
I'll be posting updates on Twitter and/or Instagram. Then, on Sunday afternoon hopefully, I'll have a wrap-up post.
Deb at Readerbuzz has made this fun bingo board. I imagine I can get a row filled by the end of the weekend.