I finished my last two books of the year earlier today. I decided to make just a couple short comments about them both and that let's me start 2020 with a fresh slate.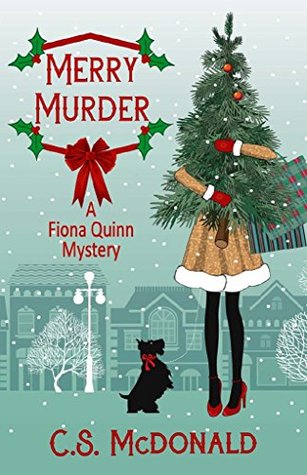 Merry Murder
by
C.S. McDonald
Series:
Fiona Quinn Mystery #2
Published by
McWriter Books
on September 16, 2016
Source:
Gift
Genres:
Cozy Mystery
,
Christmas
Pages:
148
Purchase at
Bookshop.org
Add on
Goodreads
The cookies are baked. The tree is trimmed. The shopping? Well, it's almost done, and Fiona's parents have finally returned home for a holiday visit-along with some unexpected unruly friends. Yep, Fiona's perfectly planned Christmas is coming together, but how could've she planned for her favorite uncle's murder?

Who could possibly kill a sweet old man who's played Santa at the local mall every year without fail? Fiona's boyfriend, Detective Nathan Landry, is determined to find out-before Christmas day arrives. There's only one problem: Nancy Quinn. Fiona's mom is just as determined as the detective to catch the murderer, and she isn't shy about getting the job done-even if it includes breaking a few pesky laws!

Will Fiona and her mother find the killer first or will the killer find them?
I enjoyed this Christmassy cozy mystery. First, it's set in Pittsburgh and I know the places, which makes it fun. Second, Fiona is a good amateur sleuth. This time around, her mom's her sidekick and instigates some of the more dangerous plans. Fiona's boyfriend is a police detective, but he doesn't put her down or overly discourage her. The mystery was good with just enough clues.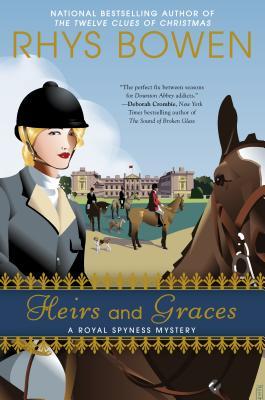 Heirs and Graces
by
Rhys Bowen
Narrator:
Katherine Kellgren
Series:
Her Royal Spyness Mysteries #7
Published by
Audible
,
Inc.
on August 6, 2013
Source:
Purchased
Genres:
Mystery
Length:
8 hrs 22 mins
Pages:
281
Format:
Audiobook
Purchase at
Bookshop.org
or Purchase at
Amazon
Add on
Goodreads
As thirty-fifth in line for the throne, Lady Georgiana Rannoch knows her table manners. It's forks on the left, knives on the right—not in His Grace, the duke's back…

I have been entrusted by Her Majesty with grooming Jack Altringham—the duke's newly discovered heir fresh from the Outback of Australia—for high society. The upside is I am to live in luxury at one of England's most gorgeous stately homes. But upon my arrival, my dearest Darcy has been sent to fetch Jack, leaving me stuck in a manor full of miscreants displeased with the discovery of my new ward.

No sooner has the lad been retrieved than the duke announces he wants to choose his own heir. Then after quite the hubbub, Jack's hunting knife somehow finds its way into the duke's back. Eyes fall, backs turn, and fingers point to the young heir. As if the rascal weren't enough of a handful, now he's suspected of murder. Jack may be wild, but I'd bet the crown jewels it wasn't he who killed the duke…
I love how Georgie is up for pretty much anything in order to not have to stay with her brother and his wife. Now, she is staying with the Dowager Duchness of Eynsford and of course there's a murder. Georgie is delightful and I liked how she actually took the time to get to know the children of the house, not just the adults. I was surprised by who the killer was, considering how many people had good motives for the murder.
Both are series I'll continue reading. They are light, quick reads, kind of like the popcorn of the mystery genre.