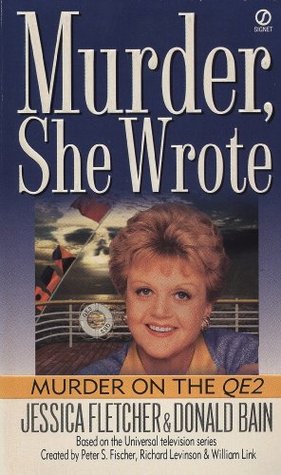 Murder on the QE2
by
Jessica Fletcher
,
Donald Bain
Series:
Murder She Wrote #9
Published by
Signet
on October 1, 1997
Source:
On shelves
Genres:
Mystery
Pages:
304
Format:
Paperback
Purchase at
Bookshop.org
Add on
Goodreads
Bestselling mystery writer and amateur sleuth Jessica Fletcher is invited to travel to London on the grand dame of ocean liners, the "Queen Elizabeth II", as one of seven guest lecturers. The night they set sail, a fellow speaker is found brutally murdered. Now Jessica has just four days at sea to find the killer before she finds more of her colleagues, or even herself, dead in the water!
Murder She Wrote was a tv staple when I was younger, so in the midst of all this staying at home, I thought I'd grab Murder on the QE2 off my shelf. I'm honestly not sure where I picked it up or who gave it to me, but it was enjoyable. There's a bit of nostalgia while reading it, they talk about floppy disks and VHS tapes and the internet is still pretty new.
Jessica is on an all-expense-paid trip across the Atlantic on the luxury ocean liner Queen Elizabeth 2, and mind you it's a crossing, not a cruise, no matter what it seems like. She's a guest lecturer, speaking about mystery writings, and she also writes an original play that will be performed on board. Surprise, surprise, someone's murdered. The dead woman is one of the other lecturers, an aging actress trying to revive her career. And of course, she's connected with multiple people on board, each of whom might have a motive to want her dead.
I enjoyed the details of life onboard the ship, although I do wish the food had been more interesting. Jessica does not have the most adventurous taste buds. The characters, both passengers, lecturers, staff, and actors in the play are an interesting lot. The mystery wasn't outstanding, but at the same time, I didn't really expect it to be. I was a bit surprised at some of the revelations as the story went along though.
Overall, Murder on the QE2 was a good read, exactly the type of cozy mystery I was in the mood for. Sometimes, re-visiting favorite characters is just what I need. I may have to pick up some more of the series.