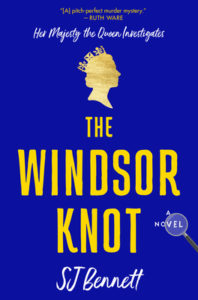 The Windsor Knot
by
SJ Bennett
Narrator:
Jane Copland
Series:
Her Majesty the Queen Investigates #1
Published by
Hachette Audio
on March 9. 2021
Source:
Library
Genres:
Cozy Mystery
Length:
8 hrs 5 mins
Pages:
288
Format:
Audiobook
Purchase at
Bookshop.org
or
Audible
Add on
Goodreads
The first book in a highly original and delightfully clever crime series in which Queen Elizabeth II secretly solves crimes while carrying out her royal duties.

It is the early spring of 2016 and Queen Elizabeth is at Windsor Castle in advance of her 90th birthday celebrations. But the preparations are interrupted when a guest is found dead in one of the Castle bedrooms. The scene suggests the young Russian pianist strangled himself, but a badly tied knot leads MI5 to suspect foul play was involved. The Queen leaves the investigation to the professionals—until their suspicions point them in the wrong direction.

Unhappy at the mishandling of the case and concerned for her staff's morale, the monarch decides to discreetly take matters into her own hands. With help from her Assistant Private Secretary, Rozie Oshodi, a British Nigerian and recent officer in the Royal Horse Artillery, the Queen secretly begins making inquiries. As she carries out her royal duties with her usual aplomb, no one in the Royal Household, the government, or the public knows that the resolute Elizabeth will use her keen eye, quick mind, and steady nerve to bring a murderer to justice.

SJ Bennett captures Queen Elizabeth's voice with skill, nuance, wit, and genuine charm in this imaginative and engaging mystery that portrays Her Majesty as she's rarely seen: kind yet worldly, decisive, shrewd, and most importantly a great judge of character.
I thoroughly enjoyed The Windsor Knot. A handsome Russian pianist is found in a compromising position the morning after a "dine and sleep" event at Windsor Castle with a whole host of guests. It's a bit like a country house murder, but bigger. We have the guests, all of whom, are potential suspects; the staff, one of whom MI5 is convinced must be a Russian spy; and people who are attending an economics meeting. That's a lot of people to keep track of, by the way. The queen disagrees with MI5, the murder is not typical of the Russians. She's also protective of her staff and her home.
I like how it's set up. The Queen is the driving force behind solving the mystery. She looks at the details and the picture and puts it all together, but her Assistant Private Secretary, Rozie, does most of the actual investigating, tramping around asking questions, accidentally putting herself in danger. I loved the Queen. She's sharp and funny and caring. She understands how others see her, but deals with them calmly and manipulates them around to her way of thinking. Rozie's a good character too – skilled, ambitious in a good way, smart, helpful.
The mystery was fine and made total sense with the whole setup. There were just a few too many behind-the-scenes actors for me. The characters in this one were the fun part for me. The Queen and Prince Philip particularly have great dialogues that made me laugh. It's also neat to get a peek into Royal life, even if it's a fictional account.