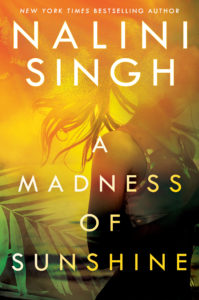 A Madness of Sunshine
by
Nalini Singh
Narrator:
Saskia Maarleveld
Published by
Penguin Audio
on December 3, 2019
Source:
Purchased
Genres:
Mystery
Length:
10 hrs 59 mins
Pages:
344
Format:
Audiobook
Purchase at
Bookshop.org
or
Audible
Add on
Goodreads
Anahera Rawiri left New Zealand at twenty-one, fleeing small-town poverty and the ghosts of her childhood with no plans to look back. But eight years later, she returns, seeking familiarity as respite from the shattered remains of her new life. And despite the changes brought on by a bump in tourism--the shiny new welcome sign at the town line and a decidedly less shiny new police presence--Golden Cove appears much as it ever was: a small settlement on the savage West Coast of the South Island, populated by all the remembered faces and set against a backdrop of lush greenery, jagged cliffs, and crashing waves.

Detective Will Gallagher knows all about ghosts; his own chased him out of a promising career in Christchurch, landing him as the sole cop in a quaint town where his most pressing concerns are petty theft and the occasional drunk. When Golden Cove resident Miri Hinewai goes out for a run and fails to return, Will finds himself heading up a missing person's search that rapidly escalates into an official investigation after this case is connected with similar ones from the past. As an outsider, Will begins to rely on Anahera's knowledge of the area and its residents to help him delve into Golden Cove's secrets, and to determine whether it shelters something far more dangerous than just an unforgiving landscape.
Anahera has returned to her hometown of Golden Cove, a small, secluded enclave in New Zealand after the death of her husband. She hasn't even settled in when a young, vibrant woman vanishes without a trace. Will Gallagher, the sole police officer stationed in Golden Cove, is quick to launch a search for the missing woman and of course, Anahera joins the rest of the town in canvassing the area. When the search proves fruitless, Will must consider that a local is responsible for Miriama's disappearance. Will finds himself relying on Anahera to help unearth the secrets that may reveal a killer hiding in their midst.The woman's disappearance reminds the folks in town of a summer fifteen years ago, when three female hikers also disappeared.
Anahera and Will are both complex, well developed characters, who can both get a little too caught up in their pasts. I liked the relationship that developed between them and their attraction added to the plot without taking over.
The setting is well done. Singh adds touches of the Maori culture and gives beautiful descriptions of the wildness of the jungle and dangerous coastline. Golden Coast is like many small towns, with people who have known each other to well for too long; people with closely guarded secrets and old grudges; people who know the area like the back of their hands and people who are still outsiders.
The mystery itself was compelling, with multiple layers, several suspects, and a real sense of tension.
Reading this book contributed to these challenges: