Grab your current read.
Let the book fall open to a random page.
Share with us two (2) "teaser" sentences from that page, somewhere between lines 7 and 12.
You also need to share the title of the book that you're getting your "teaser" from…that way people can have some great book recommendations if they like the teaser you've given.
Please avoid spoilers!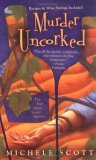 My teaser:
Someone had just been in here. Either the wines had been deliberately destroyed, or knocked off accidentally while someone attempted to get out.

-pg. 47, Murder Uncorked by Michele Scott
Tuesday Teaser is hosted by MizB of Should Be Reading. Play along.