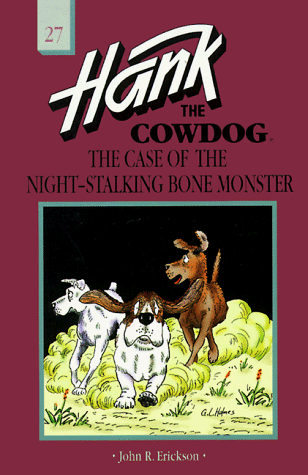 The Case of the Night-Stalking Bone Monster
 (Hank the Cowdog #27) by John R. Erickson
From the back:
Join the Head of Ranch Security, his sidekick Drover, and an old pal Dogpound Ralph as they track down the elusive monster who strikes the ranch and makes off with a fortune in buried T-bones.
Fearless Hank battles with Pete the barncat, woos Miss Scamper the Beagle, helps Ralph recover from a serious case of Milk of Amnesia, and risks his life to solve the mystery of the Night-Stalking Bone Monster.
My thoughts:
Once again, this is one of Amber's picks. It's not my favorite kids series, but it's okay. There are a lot of funny spots and plays on words.  I'm not sure if Amber caught all of the jokes, but she caught enough to think it's hilarious. I think my favorite part had to be the buzzard "Emergency Airborne Medical Services."
I liked how the dogs made up the monster themselves, and then scare themselves silly worrying and barking at it. It's something I can see kids, or my husband (no offense, David) doing. Someone did steal the bones, but you'll have to read it to see who.