Thanks to Marcia at The Printed Page for hosting Mailbox Monday. I always love it when there's a package waiting for me when I get home from work. This week there was one for Amber, too, and one I think David might like.
Dead If I Do by Tate Hallaway
I won this one at Lady Tink's. Thanks!
Witch Garnet Lacey is ready to walk down the aisle with the super sexy vampire Sebastian. Besides the fact that he has no pulse, things couldn't be more perfect. Until plans for the wedding start falling apart, and Sebastian's zombie-slash-vampire-slash witch ex-lover decides that both of them should be six feet under. It's just a matter of time before Garnet—who's already sharing her body with a short-tempered goddess—morphs into Bridezilla.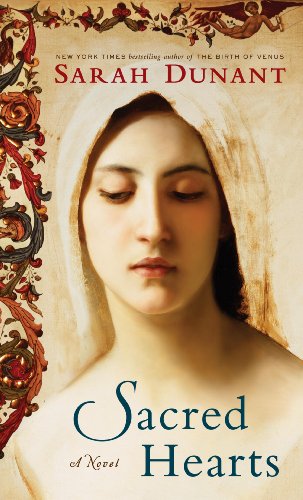 Sacred Hearts by Sarah Dunant
The year is 1570, and in the convent of Santa Caterina, in the Italian city of Ferrara, noblewomen find space to pursue their lives under God's protection. But any community, however smoothly run, suffers tremors when it takes in someone by force. And the arrival of Santa Caterina's new novice sets in motion a chain of events that will shake the convent to its core.
Ripped by her family from an illicit love affair, sixteen-year-old Serafina is willful, emotional, sharp, and defiant–young enough to have a life to look forward to and old enough to know when that life is being cut short. Her first night inside the walls is spent in an incandescent rage so violent that the dispensary mistress, Suora Zuana, is dispatched to the girl's cell to sedate her. Thus begins a complex relationship of trust and betrayal between the young rebel and the clever, scholarly nun, for whom the girl becomes the daughter she will never have.
As disorder and rebellion mount, it is the abbess's job to keep the convent stable while, outside its walls, the dictates of the Counter-Reformation begin to purge the Catholic Church and impose on the nunneries a regime of terrible oppression.
My Forbidden Desire by Carolyn Jewel
This is for a blog tour later this month.
Alexandrine Marit is a witch in mortal danger. An evil mage craves the powerful, mysterious talisman that supplies her magic, and the only person who can keep her safe is a dark and dangerous fiend called Xia. With his fierce animosity toward witches, he's hardly the ideal bodyguard. Yet as days turn into nights, she can't deny the white-hot passion between them.
Xia hates witches. They enslave and mercilessly kill his kind. But he's been ordered to protect Alexandrine, who, to his surprise, has a spirit he admires and a body he longs to possess. With the mage and his henchmen closing in, Alexandrine and her protector must trust the passion that can unite them…or risk losing everything to the enemies who can destroy them both.
101 Ways You Can Help Save the Planet Before You're 12! by Joanne O'Sullivan
This was from Paperbackswap.
It's easy being green! Kids have enormous potential to affect change, and this enlightening book harnesses children's natural energy, enthusiasm, optimism, and drive to make a difference in the world. Young eco-activists will feel empowered as they begin doing simple things such as cutting down on water use, starting a compost bin, and creating litter-free lunches. From these activities will grow even greater sensitivity to how they, their families, schools, and neighbors can have a positive impact on our planet. A list of websites encourages further exploration.
Busy Woman Seeks Wife by Annie Sanders
This one was from Paperbackswap, too.
To a casual observer, Londoner Alex Hill is every inch the calm and collected executive of a global sportswear company. In reality, she's constantly frantic, with barely enough time to take out the trash. When her demanding mother, a 1960s style icon, has a bad fall and has to move in with her indefinitely, Alex realizes she needs someone more committed than a maid-what she needs is a wife. An ad in the local paper soon produces a young woman who seems both enthusiastic and capable. But something odd is definitely happening behind the scenes of Alex's new, perfectly ordered existence. Someone distinctly male is charming her mother as well as doing all the ironing. He's no one Alex would ordinarily ever notice, never mind date. But now she can't help wondering if her new "wife" could perhaps have husband potential…
I Hate People! by Marc Hershon and Jonathan Littman
I'm giving away five copies of this. Enter here.
Face it, whether your company has 10 employees or 10,000, you must grapple with people you can't stand in the office. Luckily Jonathan Littman and Marc Hershon have written I Hate People!, a smart, counter-intuitive, and irreverent turn on the classic workplace self-help book that will show you how to identify the Ten Least Wanted–the people you hate–while revealing the strategies to neutralize them. Learn to fly right by the "Stop Sign" (nay-sayer) and rise above the pronouncements of the "Know-it-None."
I Hate People! will teach you how to carve out more time for yourself by becoming a "Soloist"–one of those bold individuals daring to work alone or collaborate with a handful of other talented people….while artfully deflecting the rest.