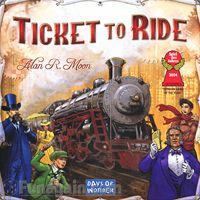 Ticket to Ride
Designer: Alan R Moon
Manufacturer: Days of Wonder
Artist: Julien Delval
Year: 2004
Players: 2 – 5
Time: 30 – 60 minutes
Ages: 8 and up
Description:
One of the most popular games ever designed, Ticket to Ride is a simple yet strategic game of connecting cities in the United States with trains. On their turn, players simply draw train cards, claim routes on the board, or draw more destination tickets. Players must balance drawing cards into their hand with claiming routes before opponents in this friendly, yet competitive board game. The rules can be taught in only a few minutes, but games are varied enough to give the game unlimited replayability. With scores of plastic trains and a beautiful board, this is a game you'll find yourself playing time and time again with all ages.
My thoughts:
First of all, this game takes us at leat an hour to play, but that may be because we always have at least 4 players. And it takes us a while to set up, mainly because my husband has an odd compulsion to make sure his "train yard" is nice and neat. Like so many Days of Wonder games, this one has great components: an oversize board map of North America, 225 custom-molded train cars, 144 illustrated cards, and wooden scoring markers.
There's a fine line between hording train cards and laying trains before someone else grabs the link between cities you need. Each time we play, someone complains when someone gets a connection the "need" and now there's no way they can win. People take routes, it's part of the game and has to be part of the strategy.
We played this last weekend, five adults, and I won, but it was pretty close. Well, except for my husband, but he tends to either win big or lose big. I would've said that you need at least one coast to coast route to win, but I found out that's not true. I won without that super-long cross-country route, but I did have several medium length ones that all worked together well.
We've played this with our daughter, who's 9, and she can play, but the adults playing have to play down tp her level a little. It's still kind of hard for her to plan as far in advance as this game seems to want you to. She can complete a route easy enough, but it's harder for her to see how that route relates to other routes.
Overall, this is a great family game. It's simple enough to be taught in a few minutes, and has enough action and tension to keep new players involved and in the game for the duration.