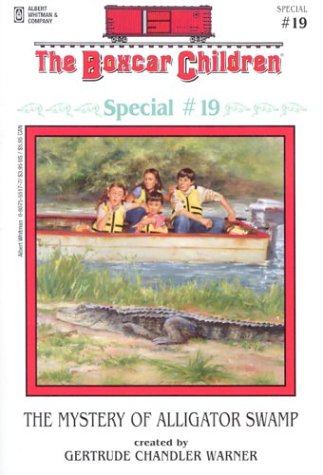 The Mystery of Alligator Swamp (Boxcar Children Special #19) created by Gertrude Chandler Warner
From the cover:
Henry, Jessie, Violet, and Benny head down south to Louisiana and find themselves swamped in a new mystery! In the lush bayou country, the Aldens learn all about fishing, Cajun cooking, and the alligators of the swamp. When a boat is found with a bite in it, the local fishermen wonder if the legendary alligator, Gator Ann, is up to her old tricks. Impossible—unless Gator Ann is a ghost!
Could Alligator Swamp be haunted? The Boxcar Children put their heads together to catch a gator!
My thoughts:
This was another cute Boxcar Children mystery. I've never been to Louisiana, let alone the bayou, but this book definitely made me want to visit.  Amber and I learned a lot about alligators and the swamp.
I think one of the fun things about reading childrens' mysteries is that the clues are so blatant and the plots so predictable, I can usually guess what's happening before we're told. That doesn't happen often with "grown-up" mysteries. Amber likes being able to guess the solution to the mystery, too, and she still loves the Boxcar Children. I'm a little worried that I'm going to eventually have to read all 100+ of them.