Thanks to Marcia at The Printed Page for hosting Mailbox Monday. I got few in the mail this week, all of which look great.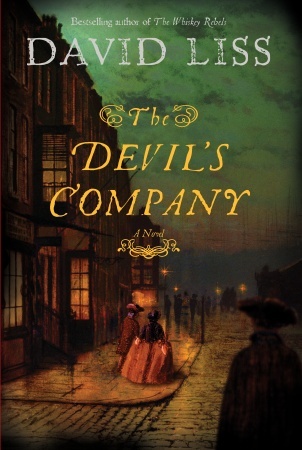 The Devil's Company by David Liss
The year is 1722. Ruffian for hire, ex-boxer, and master of disguise, Weaver finds himself caught in a deadly game of cat and mouse, pitted against Jerome Cobb, a wealthy and mysterious schemer who needs Weaver's strength and guile for his own treacherous plans. Weaver is blackmailed into stealing documents from England's most heavily guarded estate, the headquarters of the ruthless British East India Company, but the theft of corporate secrets is only the first move in a daring conspiracy within the eighteenth century's most powerful corporation. To save his friends and family from Cobb's reach, Weaver must infiltrate the Company, navigate its warring factions, and uncover a secret plot of corporate rivals, foreign spies, and government operatives. With millions of pounds and the security of the nation at stake, Weaver will find himself in a labyrinth of hidden agendas, daring enemies, and unexpected allies.
Watch for a guest post by David Liss later this month.
 The Rapture by Liz Jensen
With gothic intensity, Liz Jensen conjures the unnerving relationship between Gabrielle, a physically and emotionally damaged therapist, and her patient, sixteen-year-old Bethany, who is incarcerated in a British psychiatric hospital for the brutal murder of her mother.
Delving deep into the psyche of her fascinating, manipulative patient, Gabrielle is confronted by alarming coincidences between the girl's paranoid disaster fantasies and actual incidents of geological and meteorological upheaval. Coincidences her professionalism tells her to ignore—but which her heart cannot.
As Bethany's warnings continue to prove accurate beyond fluke, and she begins to offer scientifically precise hints of a final, world-altering cataclysm, Gabrielle is confronted with a series of devastating choices. Only to discover that in a world on the brink of apocalypse, belief is as precious—and as dangerous—as life itself….
My Name Is Will: A Novel of Sex, Drugs, and Shakespeare by Jess Winfield
Winfield, cofounder of the comedy troupe Reduced Shakespeare Company, brings an intimate knowledge of the Bard as well as an infectious sense of humor to this witty first novel. In a dual narrative, we follow both Willie Shakespeare Greenberg, a perpetually stoned graduate student, and the young playwright himself as he tentatively feels his way toward his destiny. Having spent the past two years struggling to come up with a master's thesis in his Shakespeare studies, Willie finds himself desperately short of cash when his father cuts off his funding. He impulsively agrees to deliver drugs, including a gigantic psychedelic mushroom, to a buyer at the Renaissance Faire, traveling to the site with his latest infatuation, a sexy fellow grad student. Meanwhile, 18-year-old William, fond of wordplay and even fonder of women, agrees to deliver a package to an oppressed Catholic firebrand. Each story mirrors the other as the two young men gradually grow wiser about both the ways of the world and their own emotional shortcomings. Bawdy puns, a clever construction, and a deliciously irreverent sense of humor make this debut novel irresistible.
I'll be giving away five copies next week, so make sure to stop back on the 15th.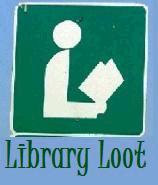 I only picked up a couple at the library this past week. Library Loot is co-hosted by Eva and Marg.
Midnight Bayou by Nora Roberts
Roberts spins a tale of bayou passions old and new in her latest romantic suspense novel, set on the grounds of a dilapidated postbellum mansion outside New Orleans. Declan Fitzgerald, a Harvard-educated Boston lawyer, has longed to possess Manet Hall ever since he and his friend, Remy Payne, broke into the old place as drunken students on a lark. Now, on the eve of his wedding, Declan leaves Boston, the law and his fiancee, buys the decrepit hall and embarks on a mission to restore it with his own sweat, blood and money. But Manet Hall comes with a dark history, and restoring it means uncovering its past, which includes rape, murder and betrayal. Declan encounters an additional challenge in the person of Cajun beauty and bar owner Lena Simone, who has her own dark history and a surprising connection to Manet Hall. As Declan digs deeper at the Hall, he often hears a baby crying. The cries are followed by voices, particularly that of Abigail Manet, the baby's mother. Abigail's story, which unfolds in 1900, is woven so tightly with Declan's that he finds it difficult to escape her grasp. In the end, only Lena can bring him back from the tragic past that threatens to engulf him.
My Wicked Enemy by Carolyn Jewel
Carson Philips is a witch on the run. For years, the notorious mage, Alvaro Magellan, has held her as his psychological prisoner. But once Carson gets a glimpse of the true extent of his evil, she flees Magellan's mansion–stealing a stone talisman of unimaginable power on the way. Her only hope for survival is a demon who ignites a voracious hunger in her she can't deny, a longing she can't resist.
Nikodemus is a warlord with a mission: Kill Magellan and his green-eyed witch at any cost. But when he meets the desperate Carson, the pull of her magic takes his breathe away. He's not sure he can trust this tantalizing woman–she is his enemy–and less sure he can keep his hands off her. But Magellan will stop at nothing to reclaim what belongs to him. Can Nikodemus stop him before his desire for Carson destroys them both?
What books found their way to your house last week?