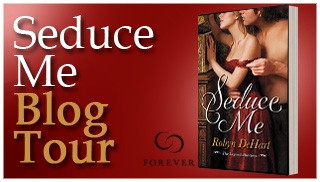 Seduce Me by Robyn DeHart
From the cover:
The Men of Solomon's meet in secret, their very existence only a rumor among the best of Victorian society. They are treasure hunters, men of wealth and title, seekers of myths and legends. And no legend is as alluring as the tale of Pandora's box…
Feilding Grey is a treasure seeker with a taste for danger and experienced women. His latest mission: wrest Pandora's fabled box from a notorious criminal mastermind. Not in the job description: save an innocent damsel in distress.
A bookish miss, Esme Worthington has favored dusty tomes over society balls, and thrilling tales over flirtations. But when two scoundrels break into her home, she is thrust into a real-life adventure. Pursued and suddenly possessing the forbidden box, Esme can't resist peeking inside. Under the spell of Pandor's seductive curse, she's soon offering herself to Fielding—body and soul. With her reluctant rescuer determined to resist her charms, can the two outwit an enemy who will stop at nothing to seize their presious prize?
My thoughts:
This romance starts out with an Indiana Jones-like scene, with Fielding searching for the Great Library of Alexandria. The adventures just continue from there, for both Fielding and Esme.  I'll grant that the plot is a tad predictable, but I want that in a romance, to be honest. I want to know that after all the danger and misunderstandings, the hero and heroine will get a happy ending.
And there is a lot fun and adventure in this romance. Esme's life is on the line several times, both due to the ruffians who kidnap her and to Pandora's curse. Fielding resists being the hero, doesn't feel he's cut out for the part, but of course falls in love with Esme, against his better judgement. He has to keep her safe, even if that means trusting the men of Solomon's.
If, like me, you like historical romances with a touch of adventure, you'll definitely enjoy this. I couldn't put it down. Esme and Fielding are perfect for each other.
Check out the Q & A with the author for a chance to win your own copy.