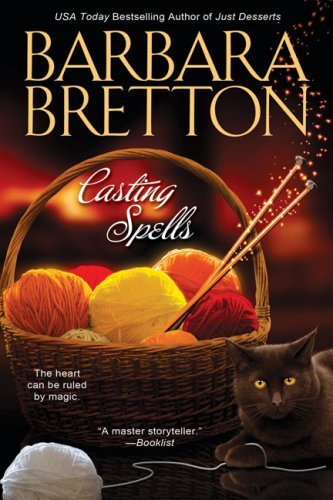 Casting Spells by Barbara Bretton
Do you believe in the magic of true love?
Chloe Hobbs lives in Sugar Maple, Vermont, a picture perfect village, and owns Sticks & Strings, a mecca for knitting tourists. Sugar Maple has a secret, though, that is hidden from the outside by a protective spell put in place hundreds of years ago. All the inhabitants are magical beings – vampire, witches, sprites, selkie, etc, but they all get along for the most part. The spell protects the town, allowing outsiders to see it only as a beautiful town filled with normal, although slightly quirky people.
Well, not all of them are magical. Chloe may be the daughter of a sorceress, but her father was a human, and up to now, she has no magical abilities whatsoever. The problem is the town's future is in her hands.  Only she can keep the protective spell intact.
Enter Luke MacKenzie. When he and Chloe touch, sparks literally fly. They are meant for each other. He is her one true love, but where do they go from here? He's pure human, and a cop to top it off. What happens when he finds out what is really going on in Sugar Maple? Can he accept it or run screaming? Their romance develops quickly, but I got so caught up in the story that it was believable. They were meant for each other.
The seconday characters were a great bunch of off-beat friends and neighbors. I was sad about the fate of one of them, though. I really loved Gunnar and wanted him to have his own happily ever after. Unfortunately, it doesn't seem like that will happen. On the other, the story continues in Laced with Magic, so maybe with magic, there's still hope.
Love and magic are knitted together to make this a wonderfully enjoyable, light paranormal romance. You'll be holding your breath, hoping Chloe will get the happily-ever-after ending she longs for.
This book has been sitting on my shelf for quite a while.  I won it from somewhere, and if I could remember where, I'd let you know.