Thanks to Marcia at The Printed Page for hosting Mailbox Monday. I got a couple in the mail this week.
City of Refuge by Valerie Farber
Received from publicist for review.
Bat-Shachar, a teenaged girl gifted with beauty and intellect, languishes in the household of her father, a prominent Israelite scholar. Intimidated by Bat-Shachar's coming of age, her father grows aloof. He scrutinizes her actions, and his discipline is heavy-handed. Her father's rages drive Bat-Shachar from home. In the company of the family's Canaanite maidservant, Bat-Shachar happens upon pagan rituals. The visions she sees shake her to the core of her existence.
Tzuriel is a metalworking apprentice. Upon seeing the agony of his people butchered by marauders, he vows to equip his nation for battle. After infiltrating enemy territory to acquire the forbidden skills of crafting iron weapons, Tzuriel faces an awesom fate, borne of a fleeting indiscretion.
The paths of Bat-Shachar and Tzuriel intertwine when they are expelled from their tribal villages. They race towards a city of refuge as bloothirsty enemies pursue them.
City of Refuge is set in the early years of Israelite nationhood. The tale of love, death, and vengeance captures a readers attention at the outset and does not relinquish it until the final page.
Grave Peril (The Dresden Files, Book 3) by Jim Butcher
Came from Paperbackswap for my husband.
Harry Dresden's faced some pretty terrifying foes during his career. Giant scorpions. Oversexed vampires. Psychotic werewolves. It comes with the territory when you're the only professional wizard in the Chicago area phone book.
But in all Harry's years of supernatural sleuthing, he's never faced anything like this: the spirit world's gone postal. All over Chicago, ghosts are causing trouble–and not just of the door-slamming, boo-shouting variety. These ghosts are tormented, violent, and deadly. Someone–or something–is stirring them up to wreak unearthly havoc. But why? And why do so many of the victims have ties to Harry? If Harry doesn't figure it out soon, he could wind up a ghost himself .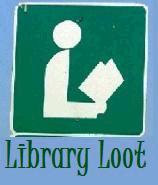 I only picked up a one at the library this past week. Library Loot is co-hosted by Eva and Marg.
Wife of the Gods by Kwei Quartey
Lyrical and captivating, Kwei Quartey's debut novel brings to life the majesty and charm of Ghana–from the capital city of Accra to a small community where long-buried secrets are about to rise to the surface.
In a shady grove outside the small town of Ketanu, a young woman—a promising med student—has been found dead under suspicious circumstances. Eager to close the case, the local police have arrested a poor, enamored teenage boy and charged him with murder. Needless to say, they are less than thrilled when an outside force arrives from the big city to lead an inquiry into the baffling case.
Detective Inspector Darko Dawson, fluent in Ketanu's indigenous language, is the right man for the job, but he hates the idea of leaving his loving wife and young son, a plucky kid with a defective heart. Pressured by his cantankerous boss, Dawson agrees to travel to Ketanu, sort through the evidence, and tie up the loose ends as quickly and as efficiently as possible. But for Dawson, this sleepy corner of Ghana is rife with emotional land mines: an estranged relationship with the family he left behind twenty-five years earlier and the painful memory of his own mother's sudden, inexplicable disappearance. Dawson is armed with remarkable insight and a healthy dose of skepticism, but these gifts, sometimes overshadowed by his mercurial temper, may not be enough to solve this haunting mystery. In Ketanu, he finds that his cosmopolitan sensibilities clash with age-old customs, including a disturbing practice in which teenage girls are offered by their families to fetish priests as trokosi, or Wives of the Gods.
This is a compelling and unique mystery, enriched by an exotic setting and a vivid cast. And Inspector Darko Dawson—dedicated family man, rebel in the office, and ace in the field—is one of the most appealing sleuths to come along in years.
What books found their way to your house?