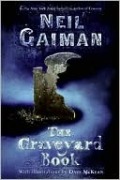 The Graveyard Book by Neil Gaiman, illustrations by Dave McKean
(Reading level: Ages 9-12)
I just finished The Graveyard Book, and no one warned me. No one told me how attached I would become to the graveyard residents and Bod's life there that I would end up crying when Bod had to leave.
A little boy's family is killed, but he escaped and wandered to the graveyard at the top of the hill. The ghosts who live there decided that he can stay and he takes the name Nobody Owens. The Owens become his parents and Silas, who is neither dead nor alive, his guardian. The ghosts are his friends and Silas his protector. He is safe in the graveyard, but no where else, as the killer is still out there.
I enjoyed this a lot, more than I expected. I liked meeting all the people and reading about Bod's adventures both in the graveyard and in the real world. One of his closest friends is a witch who was drowned and burned. Silas provides food, teachers, books and as many answers as he can. Bod knows young ones and old ones and seeks advice from a poet.
Really, he though, if you couldn't trust a poet to offer sensible advice, who could you trust?
I don't read many coming of age stories, but this was magical, a treat to read. There were situations where I was scared for Bod and times when he made me smile. And, like I mentioned, moments that made me cry. I guess I was more emotionally involved in the story than I thought, but Bod leaving his home and his family, even if they were ghosts in a graveyard, was sad. Of course, he didn't see it entirely that way. Life, to Bod, was and would be an adventure, with new experiences always just around the bend.
"Face your life
It's pain, it's pleasure,
Leave no path untaken"
By the way, this is not one I shared with Amber (9). It would be perfect for her, but she has enough trouble sleeping lately without thinking about vampires and ghosts and graveyards.
My copy was borrowed from the library and the above is my honest opinion. I am an Amazon Associate.