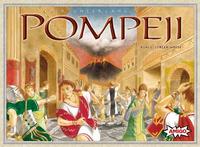 The Downfall of Pompeii
Designers: Klaus-Jurgen Wrede
Manufacturers: Amigo, Mayfair Games
Year: 2006
Players: 2 – 4
Time: 45 minutes
Ages: 10 and up
In the year 79 A.D., the beautiful city of Pompeii sits at the foot of Mount Vesuvius. For years, the lovely town has attracted the best of Rome's citizens, and it is famous for both its businesses and luxuries. But a terrible secret lies deep beneath the slopes of the mighty mountain. A secret that will unleash unspeakable horrors on the fateful afternoon of August 24th… (funagaingames.com)
The first half of the game is spent living in Pompeii and encouraging your Roman friends and family to join you. The second half is spent fleeing from the city in terror, trying to survive the explosion.
The theme is great, the game plays well. The rules are easy to learn, and there is both strategy and a little luck involved. Everyone enjoys it, from Amber (9) to my husband and our friends, except me. I think my big problem is that sometimes players in the course of the game toss other players people into the volcano and I just don't like that. It's fair, it's in the rules, different people get thrown in, usually based on who seems to be winning. I still don't like it, but like I said, I am in the small minority. Oh, and I get upset when the lava comes and gets me. Of course, the volcano's going to get you, it is Pompeii, doesn't mean I enjoy it. This is just one of those games I sit out of, but everyone else likes. To each his own, I guess. If you get a chance, though, definitely give it a try and tell me what you think.
Have you played anything fun lately?
We borrowed this from a friend, but it stays at our house. The above is my honest opinion. I am a Funagain Games affiliate.