Vicki of Reading At The Beach hosts A-Z Wednesday. Today's letter is S.
I'm going back to one I read in the spring of 2008. This is one of those books where the setting, Tibet, is just as important as the plot. It's a mystery, but also the story of the people and the place. I found it fascinating.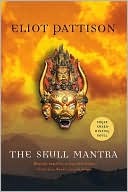 The Skull Mantra by Eliot Pattison
Winner of the 2001 Edgar Award for Best First Novel, Skull Mantra was a sensation when first published and received wide acclaim from critics and readers alike.
The corpse is missing its head and is dressed in American clothes. Found by a Tibetan prison work gang on a windy cliff, the grisly remains clearly belong to someone too important for Chinese authorities to bury and forget. So the case is handed to veteran police inspector Shan Tao Yun. Methodical, clever Shan is the best man for the job, but he too is a prisoner, deported to Tibet for offending someone high up in Beijing's power structure. Granted a temporary release, Shan is soon pulled into the Tibetan people's desperate fight for its sacred mountains and the Chinese regime's blood-soaked policies. Then, a Buddhist priest is arrested, a man Shan knows is innocent. Now time is running out for Shan to find the real killer.  (Goodreads.com)
The above is my honest opinion. I am an Amazon associate.