I've gotten a few awards lately that I wanted to thank people for.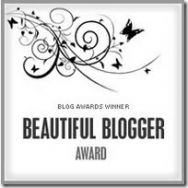 Freda, from Freda's Voice, passed this one back to me. Thanks so much.
Now, the rule is nominate seven other bloggers for this and then tell everybody seven things about yourself.
I'm skipping the nominating other bloggers. You're all beautiful.
Seven things about me, huh? You guys already know a lot, but here goes. Seven things about me:
My feet are cold. Have been since October.
I'm drinking black coffee.
I need new glasses. Mine are all scratched up.
I stole some of David's quarters so I can grab lunch at Wendy's if I want. Really it's an excuse to read, because if I go home for lunch I know I'll do other things.
My current book is Fired Up by Jayne Ann Krentz, which is only a seven day loan from the library, so it skipped to the head of the line.
I just ordered myself an MP-3 player.
I'm wearing watermelon sorbet lip gloss.
Freda also sent me this wonderful award.
I appreciate all of you who comment, and here is just a sampling of the people who have left comments that made me smile lately.
Joyful from New Horizon Reviews
Esme at Chocolate & Croissants
Ryan at Wordsmithonia
Anna from Diary of an Eccentric
Rob at Rock Cod's Blog
Ryan at Wordsmithonia gave me this one. Thanks so much.
The rule is you must name 10 true and honest things about yourself then pass this along to 7 other bloggers.
More things about me. It's a shame I'm not more interesting really. If it didn't specifically say I need to be honest, I'd consider making some things up.
My favorite pizza toppings are extra cheese, onions and mushrooms.
I don't like meatballs, but I do love spaghetti.
My daughter (9) and I still read together every evening.
My favorite plant is forsythia. I love the bright yellow in early spring, when so little is blooming, and the kinda of wildness the bushes have when they aren't trimmed too harshly. (Maybe I'm just looking forward to Spring.)
Scrabble is one of my favorite games, but it's tough to get people to play.
I love knee socks and cute boots.
I suck at the Dogfight in Wii Sports Resort.
My favorite milkshake flavor is vanilla.
I really enjoy watching birds at the birdfeeder, but I hate when I hear them in the morning before I'm out of bed.
I'm not a morning person. Amber and I have worked out a system where we talk to each other as little as possible in the morning before school/work.
So, I'd love to learn more about all of you. If you're willing to share 10 things about yourself, please consider yourself a recipient of the Honest Scrap Award and let me know that you're going to play along.