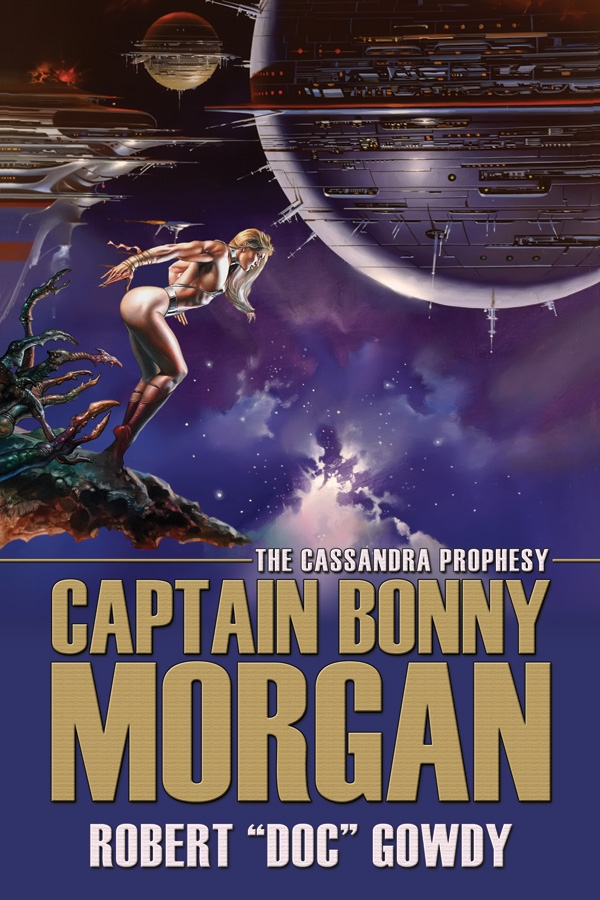 Captain Bonny Morgan: The Cassandra Prophesy by Robert "Doc" Gowdy
While I was in the early chapters of this tale, I told my friends that it was like reading a sci-fi geek's lesbian fantasy. My friends, who are male by the way, said, well  that's it then, that's the pinnacle, time to just stop awarding the Hugo and Nebula. Joking, of course.
Anyway, the farther I got into the book, the more I appreciated it. This space pirate adventure is engrossing, full of intrigue, secrets and fascinating characters. I'll grant you that the women, slaves, royalty and pirates alike are naked or close to it most of the time, but don't let that fool you. They are intelligent, powerful women.
This novel, the first in a planned trilogy, centers on the first steps to bringing down an evil empire. Captain Bonny Morgan, a beautiful, mysterious space pirate with some unusual abilities, has been commissioned to kidnap Princess Cossette, the Emperor's step-daughter, setting into motion a whole series of events. After finding out about the kidnapping, Princess Lysette and her slavegirl, Tink, set off to find Cossette.
"Now undress me, then I want you to get into your cage. You can just sit in it for a time while we figure out what we're going to do. We need to find Cossette before my step-father does. If there's any way possible, I want to keep her away from him." (pg. 70)
Along, the way the meet a colorful cast of characters, pirates, former Shield Marine's and tavern owners. Of course, we also have the necessary evil side, headed by none other than Emperor Tulle along with Admiral Kul, head of the Imperial Night Watch.
There's a prophecy to be fulfilled. There's a hero in the making. Give this one a shot. A word of warning though: it is definitely for adults only.
On a side note, I love the cover. It's titled "The Void" and the author licensed the image from Boris Vallejo and Julie Bell. I think it goes along with the feeling of the book well.
I reviewed Captain Bonny Morgan: The Cassandra Prophesy as part of a Virtual Book Tour. Some of the other stops in May are:
Monday, May 3 – Interview at Review From Here
Tuesday, May 4 – Interview at The Writer's Life
Wednesday, May 5 – Book review at Must Read Faster
Friday, May 7 – Interview at Beyond the Books
Monday, May 10 – Interview at Pump Up Your Book
Tuesday, May 11 – Book spotligh at Examiner
Wednesday, May 12 – Interview at Blogcritics
Thursday, May 13 – Guest blog at Cafe of Dreams
Friday, May 14 – Guest blog at SSF Insider
Monday, May 17 – Book review at The Distracted Librarian
Tuesday, May 18 – Guest blog at The Naked Hero
Wednesday, May 19 – Interview at Book Marketing Buzz
Thursday, May 20 – Interview at Literarily Speaking
Friday, May 21 – Book review at Star Shadow
Monday, May 24 – Book review at Jen's Book Talk
Tuesday, May 25 – Guest blog at Fantasy Pages
Wednesday, May 26 – Book review at Books and Movies Reviews
Thursday, May 27 – Book review at The Wayfaring Writer
Friday, May 28 – Guest blog at Literarily Speaking
Published in January 2, 2010 by Wasteland Press
1st of the Captain Bonny Morgan Trilogy
472 pages
I received my copy courtesy Pump Up Your Book! and the author for review and the above is my honest opinion. I am an Amazon associate.