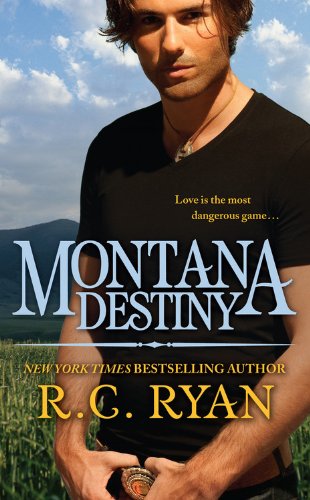 Montana Destiny by R. C. Ryan
I'm sorry to say this romance just didn't work for me. This is the second in the trilogy that began with Montana Legacy, which I enjoyed. This centers on the second of three cousins, Wyatt, who after spending years traveling the globe has settled down at his family's ranch in Montana, in part to search for a legendary treasure, but also because it's the only place that truly feels like home.
His love interest is the local EMT, Marilee Trainor, a woman who loves her independence. Of course, the two fall madly in love, face life-threatening situations due to the treasure, have a fight, get back together. I'm assuming there's a happy ending, but to be honest I didn't get that far.
I mentioned to my brother the other day that I wasn't really enjoying the story, that I didn't really care about the characters. It's just too predictable and some of the lines are downright corny, but I "had" to finish it. He reminded me that I don't have to,that I have posted in my sidebar a Bill of Rights that includes the right not to finish, so I decided I was done with the book. It's not that it's bad, it just wasn't for me.
I've seen a lot of positive reviews and it does have all the right ingredients, hot cowboys, danger, mystery, a few not too steamy sex scenes, but I was bored. I like romances, but this one just didn't have that spark that keeps me interested, keeps me caring about the characters and where their story is going.

If it sounds like something you'd enjoy, though,  I do have five copies of Montana Destiny to giveaway. To enter, just leave me a comment by July 11. I'll post the winners the following day. This one's open to the US and Canada only, no PO boxes.
Published May 1, 2010 by Forever
Fool's Gold #2
307 pages (but I only got to page 237)

I received my copy from the publisher for review and the above is my honest opinion. I am an Amazon associate.
[tweetmeme source="carolsnotebook" only_single=false https://carolsnotebook.com/2010/06/22/montana-destiny-by-r-c-ryan-with-giveaway/]