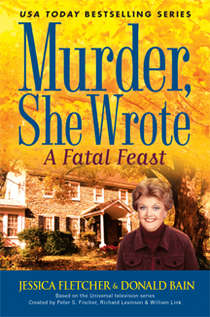 A Fatal Feast by Jessica Fletcher and Donald Bain
I was looking for a Thanksgivingy book and saw this at my library, so I had to pick it up. I remember watching the Murder, She Wrote series on TV back in the 80s or 90s, so I was familiar with the characters and setting. Yes, I was a mystery lover even then.
Jessica Fletcher has a guest in town for Thanksgiving, her would-be beau George Sutherland, a Scotland Yard Investigator. I have to say that Jessica is more attractive and adventurous than I remember her, flying planes and flirting with men. Of course, maybe my memory has tamed her over the years.
Anyway, Jessica is preparing a Thanksgiving feast and the list of people who are planning on being there keeps growing, including and odd drifter who has been hanging out in the road in front of her house and her new neighbors, an odd couple themselves. It's really no surprise, though, when after dinner she and George stumble over a dead man, with a carving knife in his chest.
It was an enjoyable quick cozy mystery. The characters are probably all regulars in the series, but I felt like I knew them well enough, even though this is the first I've read of the books. The plot wasn't outstanding, but I wasn't expecting it to be. It's full of warmth and the folks of the town truly care about each other. A good read for the holiday.
Purchase at an Indie Bookstore.
279 pages
First published 2009
Murder, She Wrote #32
Challenges: 100+, Holiday Reading
I borrowed my copy from the library and the above is my honest opinion. I am an Amazon and IndieBound affiliate.