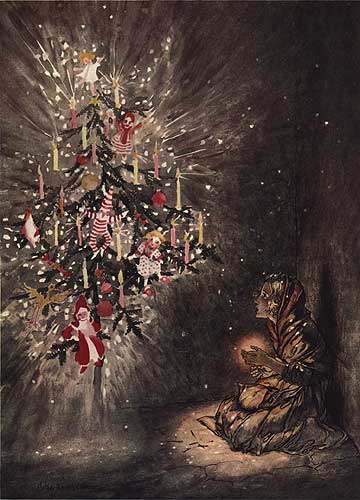 "The Little Match Girl" by Hans Christian Andersen
Earlier this year, I asked people to share what their favorite Christmas story is and several mentioned this tale by Hans Christian Andersen. It's one I've heard of but I'm not sure that I ever actually read it before.
The Little March Girl is a poor child wandering the streets trying to sell her matches, since begging was illegal during Andersen's time. It's New Year's Eve and horribly cold; she has no shoes, no hat, and she's shivering, but she can't go home because she will surely be beat for not bringing any money back.
The tired girl sits down in a corner formed by the walls of two houses. She finally takes out a single match and lights it to warms her hand by. Then she sees the first of three visions, a large warm iron stove. With the second match, she sees a roast goose, a traditional holiday meal that her family could not afford. With the third she sees a Christmas tree, twinkling with thousands of lights.
She lights a fourth match and this time sees her dead grandmother, the only person who ever truly loved her. The little girl does not want her grandmother to disappear when the flame goes out, so she lights the whole bundle of matches.
And the matches gave such a brilliant light that it was brighter than at noon-day: never formerly had the grandmother been so beautiful and so tall. She took the little maiden, on her arm, and both flew in brightness and in joy so high, so very high, and then above was neither cold, nor hunger, nor anxiety—they were with God.
The next morning, the little girl is found frozen to death with a smile on her face.
I guess it's a happy ending. The girl is safe, warm and joyful in heaven. But it's a reminder too, that the world is full of children who need our help, children who are hungry or lonely or hurting who we can make a difference to, not just at Christmastime, but all year long.
As always, I felt connected to the story by Andersen's writing style. His descriptions, both of the girl's harsh reality and the things she dreams of and longs for are detailed, expressive, painting a full picture. Although it won't be one of my favorite Christmas stories – the image of the frozen girl is just too sad- I can certainly see why so many people love it.
You can read the story here.
Tif, from Tif Talks Books, is the hostess of this great feature, Fairy Tale Fridays. Head over there to see her take on "The Little Match Girl" and to share your own thoughts. Next week, we'll be looking at "Thumbling" by the Brothers Grimm. In the meantime, have a Merry Christmas tomorrow.