The Butterfly Cabinet is engrossing. I was drawn into these two women's stories of being a woman, a mother, a wife.
Inspired by a true story of the death of the daughter of an aristocratic Irish family at the end of the nineteenth century,the story of four year-old Charlotte's death is told by two narrators. The first is Maddie, an old woman living in a nursing home. She is telling the story of the history of the family to Anna, who would have been Charlotte's niece. Maddie doles out the secrets and misdeeds that happened 70 years before, when she was a young teenage servant at the big house. She also gives Anna a diary that belonged to Harriet, Charlotte's mother. Harriet was arrested and tried for killing the girl and spent a year in prison. Entries in her diary from that time alternate with Maddie's chapters.
I was riveted by the story from the first chapter. Maddie remembers so clearly what it was like being at the castle, and Harriet was trying to do her best, bound by her own rules and her own desires. Both woman made choices in their lives, heart-breaking decisions.
I can't really put my finger on how I feel about Harriet, but she was who captivated me. She was a strong, independent woman, maybe too tough, too unconventional. She was not meant for the life she was given. In her diary, she is uncompromising, she tells her story without asking for sympathy or forgiveness.
If Mr. Darwin is right, if species of animals and plants do become modified over time, might it bet rue that such a change could come upon a person in the course of one lifetime? If I find myself at variance with the opinion of all those around me, if I find the position I am expected to occupy in the world too narrow a place, if I am inappropriate, would I do well then to change? Could I alter my appearance so as to blend in? I am neither behind nor ahead of my time but, somehow, at odds with it, an anomaly. I suppose I could smile and nod and coo as required; I could say I prefer needlework to the hunt; I could learn to quill, could bring myself to contemplate a flower arrangement and banish my customary look of boredom. I could adapt to survive, be green among foliage and yellow next to pollen. In a plan, in an animal, mimicry is considered evolutionary; nature selects for survival those individuals that have the capacity to adjust. But only imagine the stat of such a person's soul. (pg 209)
The butterfly cabinet of the title is Harriet's. She has a collection of butterflies that she has pinned and truly delights in. It is in the cabinet, with the dust left by the butterflies, that the diary was found. We stopped at the Carnegie Museum of Natural History the other day, and the butterflies reminded me of the book, so I though I'd share. They're so beautiful and fragile, I can see why Harriet loved them. On the other hand, I'm not much of a fan of having dead animals around the house.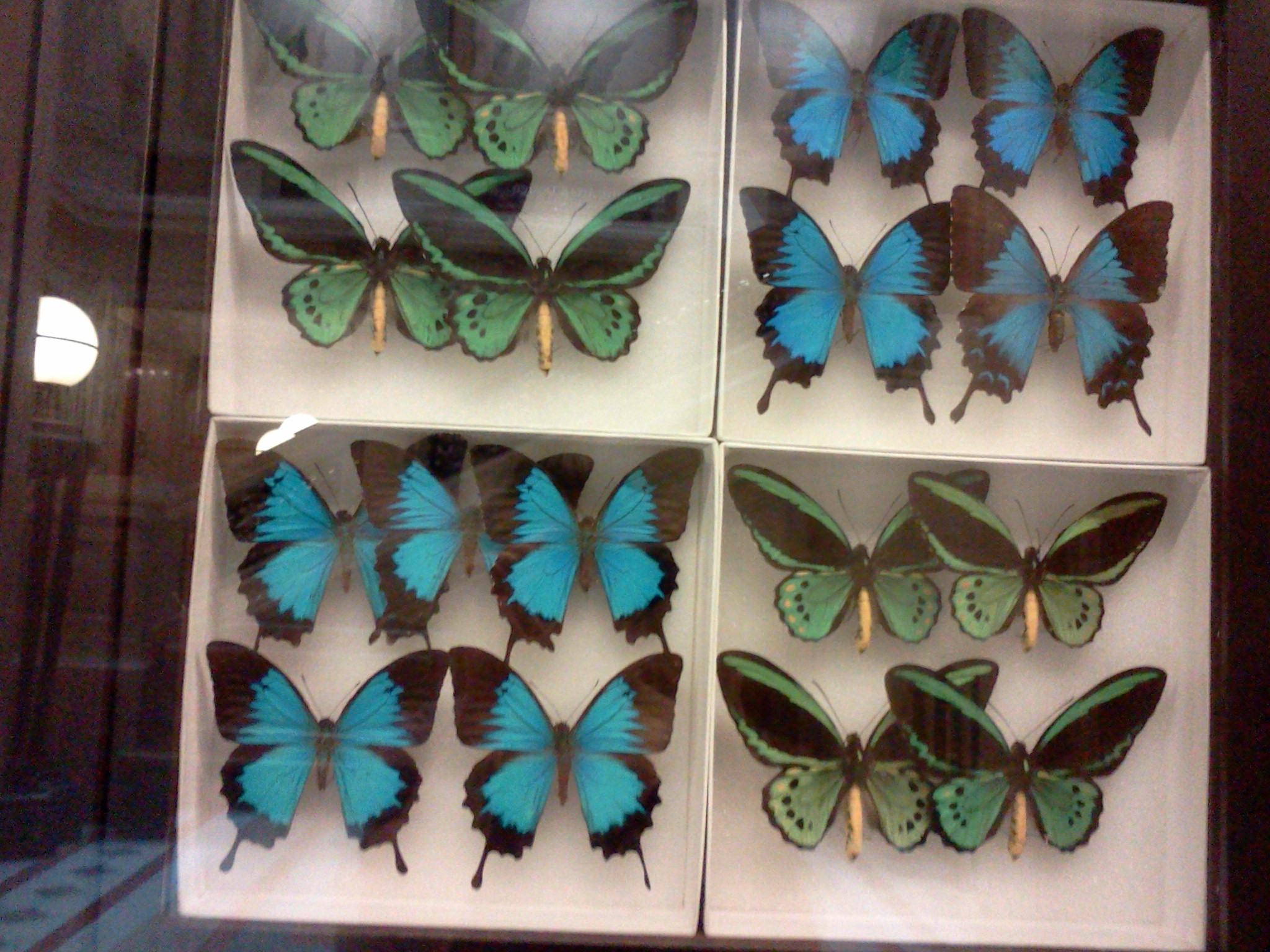 Overall, I loved The Butterfly Cabinet, it's one of my favorite of the year. It takes its time with the family drama, the secrets are not shocking, not in the context. It's like a sad, mournful song, you know the end, the little innocent girl is dead, but there's still a beauty in the telling of the story.
Purchase at Amazon or an Indie bookstore.
4½ out of 5 stars
Category: Historical Fiction
240 pages
Published July 26, 2011 by Free Press
Book source: Review copy