This past week I was looking for cheap, easy, yummy dinners. Okay, that's what I'm looking for most of the time. Anyway, I tried this variation on Chicken Noodle Soup and it was a definite hit. Amber loved it and even ate the celery, which she doesn't usually do.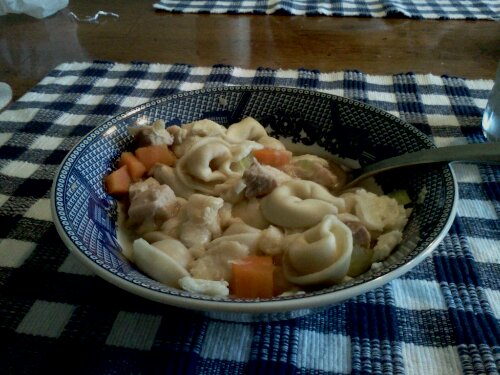 Chicken Ravioli Soup (recipe thanks to DisneyFamily.com)
Ready In: 30 minutes
Yield: 4 servings
Ingredients
8 cups chicken stock or broth
1/2 cup diced carrot
1/2 cup diced celery
2 cups refrigerated mini cheese-stuffed ravioli (I used frozen tortellini instead. It's what we had and it's Amber's favorite.)
1 cup cooked chicken – diced
salt and pepper to taste
Directions
 Heat chicken stock in a soup pot to boiling; reduce heat and add carrot and celery.
Simmer until vegetables are soft – about 20 minutes.
Add ravioli and cook according to package directions — usually about a 5 minute simmer.
Stir in cooked chicken, salt and pepper as desired and serve.
Using the tortellini instead of regular egg noodles made it a little heartier, a little more filling. And between the three of us, we didn't have any left-overs.
I forgot to take a picture before I added crackers. It's soupier than it looks above.
What's your favorite cheap, easy meal?
Weekend Cooking is hosted by Beth Fish Reads.