I know I usually feature traditional fairy tales on Thursdays or re-tellings that still feature the well-known characters, but today's tale is a little different. Hallow's Eve by Sarah Deimer is an original, modern "Halloween fairy tale," but it is an adorable story.
Laluna, our heroine, is a pretty witch with bright red hair who has no family after the recent death of her grandmother. Laluna is not a typical witch, in fact "she was a HORRIBLE witch and a FANTASTIC baker," but when an old school friend asks for a potion, Laluna can't say no, even though it is a love potion. Of course, it all backfires, and Laluna ends up missing the Witch's Ball on Halloween night to deal with a zombie in love.
It's such a sweet little story, for being full of witches, ghosts, a vampire, a werewolf, a zombie, even Death himself. What's funny is the scariest person is actually the human, the woman who caused the mess in the first place and leaves Laluna to clean it up. All the "monsters" are kind-hearted, and there's a touch of a sweet romance between Laluna and one of her friends. And Laluna is certainly a marvelous baker, no one, dead or alive, can resist her cupcakes. I have to admit they sounded delicious.
The story is simple and enjoyable. Laluna has a task she needs to complete, which she manages to do with help from her friends. And yes, there's a happy ending for everyone, unusual in my Thursday posts.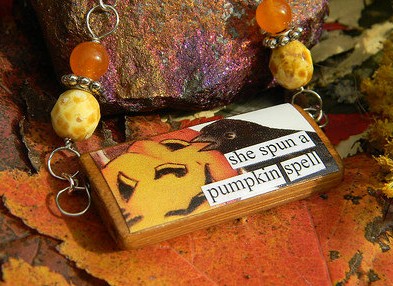 If you're looking for a short, sweet, light  Halloween read pick this one up. It's available on Amazon or Smashwords.
Sarah, along with Jenn, has an Etsy shop, Glamourkin. They have some absolutely adorable Halloween pendants and necklaces, perfect for any witch.
Category: Fantasy
4 out of 5 stars
Published May 9, 2011
11,105 words
Book source: Purchased
Thursday's Tales is a weekly event here at Carol's Notebook. Fairy tales, folktales, tall tales, even re-tellings, I love them all.