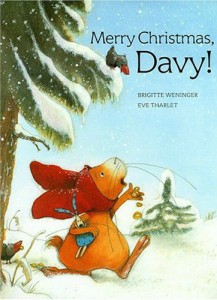 I love Christmas and winter books and we have a whole box full of them, a good variety really. Many we've read over and over through the years.
Merry Christmas, Davy! by Brigitte Weninger is a charming tale about sharing and kindness. Davy is an little bunny whose dad has taught him and his brothers and sisters that Santa wants them to be good, help one another, share and to be kind and loving. When he is left at home alone the next day, he puts into practice what he learned. So many of the forest animals, like the birds and deer, look so hungry and Davy knows it's tough to find food in the snow, so Davy takes some of his family's food out to share with his forest friends. Of course, when everyone comes back home, they wonder where all their food wen. First, the family is a little upset with Davy, but when they realize that what he does was kind and considerate they all agreed that they had a lot and others had very little, sharing was a generous thing to do. And on Christmas Eve, the forest animals show their thanks.
The illustrations by Eve Tharlet add a lot to the story. They're sweet and softly colored. The animals are all adorable, and each seems to have its own personality.
It's really a touching little story, and a good reminder for kids that Christmas is not just about getting gifts, it's about giving too. There's a fair amount of text for young readers, but it's a perfect one to share together as a family, curled up on the couch on a cold December night.
4 out of 5 stars
Category: Picture Book – Christmas
Davy Series
Published 1998 by NorthSouth Books
32 pages
Purchase: Amazon
Book source: Personal library