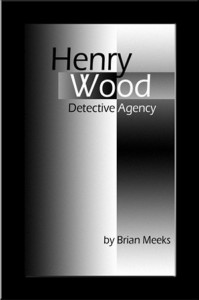 I've actually been putting off reviewing Henry Wood Detective Agency by Brian Meeks. It's a blast of a book, and I want you to read it if you like mysteries that are a little quirky, but I don't want to spoil it for you.
In a nutshell,  Henry Wood is a private detective in 1955. A woman who needs his help wanders into his office, but she isn't the only one who needs to hire him. There's another woman who needs his services to, but the two situations are definitely related. Henry's in New York, loves the Brooklyn Dodgers, enjoys woodworking, and is in over his head with his new case.
So you've got the rather typical gumshoe and a couple of gorgeous dames. It really does feel like a classic detective novel, up to a point. Henry has to deal with the mob and a crooked politician. The case is one that only he can solve, with clues coming to him in a rather unorthodox way.
The dialogues and setting were perfect, truly conveyed the time period as I imagine it. It's funny too. It's one of those books, few and far between, that I found myself reading bit after bit out loud to my husband. It had me laughing and grinning and wondering how it was all going to turn out. It has quite a cast too, from Henry and the women to a mobster who enjoys reading to a cop who is guarded by a precocious child. It's a fun, fun ride.
And there's one hook that grabbed my attention. I can't tell you what it is, you'll have to find that out for yourself, but it made the story truly unique. I can't wait to read more of Henry's adventures.
4 out of 5 stars
Category: Mystery
Amazon | Amazon Kindle | IndieBound | Website | Twitter | Facebook
Published July 27, 2011
210 pages
Book source: Pump Up Your Book! and author for blog tour