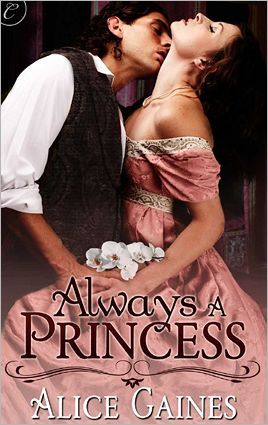 It's been a while since I read a fun, light, sweet romance and Always a Princess by Alice Gaines fit the bill perfectly. Our couple, Eve and Philip, fit together perfectly. Eve is jewel thief. She's masquerading as a foreign princess to get invited to all the fashionable parties in Victorian London, and during the festivities she makes off with the jewelry. She doesn't see many other options in life, after her former employer destroyed her reputation. Philip, however, does have other options. He is a viscount after all. But he's bored stuck in London and becomes the Orchid Thief, stealing jewels from the nobility and leaving orchid blooms in their place. The two meet at a party and Philip knows right off the bat that Eve is no princess, but he plays along. She, of course, discovers his secret life, and he, of course, discovers how much he is attracted to her.
Alright, it's a little formulaic, but I enjoyed it. Philip's perfect, he may be a noble, but he's not in the least worried about his reputation. He's sexy and charming, intelligent and has a bit of a swagger. He makes you smile. Eve is determined. She's lost a lot in her life, and while Philip may make her weak in the knees, she's not willing to lose her heart to him. The dialogue between the two sparkles and there's just the right amount of sexual tension.
I appreciate, too, that the first sex scene didn't happen until the second half of the book. It gave time to make the attraction feel real not forced. And the love scenes themselves were well-done, steamy and truly added to the romance. They didn't feel just thrown in to make it a "hot" book.
I'm sure it's not horrible historically accurate. Even to me, some of the phrases seemed a bit modern, but to be honest, I don't care.
Always a Princess made me laugh and smile. It's a fun bit of fluff. And of course there's a happy ending-she will always be his princess.
4 out of 5 stars
Category: Romance – Historical
Published August 8, 2011 by Carina Press
83,000 words
Book source: For review