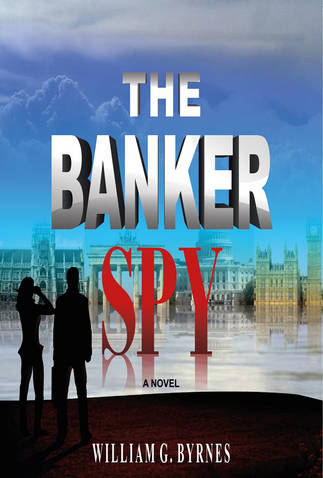 Today, I'm happy to share my notebook with William G. Byrnes, author of The Banker Spy.
William, please tell us about your current release.
The Banker Spy  weaves history into a contemporary thriller about ex-lovers who become entangled in a web of international intrigue. Investment banker Peter Armstrong believes he's left his past in the States. He has an exciting new job in London and is managing the largest equity offering in European history. Behind him are an incident at his old employer and a broken engagement. He thinks his only problem is his client—an automobile company desperate for cash. Then he receives a phone call from his ex-fiancée, Dayna Caymus, a beautiful and unpredictable CIA agent.
When Peter discovers that his client is secretly working for the German government the two ex-lovers enter into an uneasy alliance, which their past sometimes helps and sometimes hurts, all the while sorting through their feelings for each other. Dayna puts her mission first, leading Peter into a labyrinth of deception and conspiracy. Peter loses his client, his job, and almost his life as they race to learn Germany's secrets—secrets that could start a nuclear war.
Set against the backdrop of a national election, action takes place in and around Munich, and in Berlin, Washington and London.
Can you tell us about the journey that led you to write your book?
I always wanted to write and for years would sketch out ideas, but they lacked the critical mass to develop into a book. My wife and I were flying to Germany for a vacation a few years ago. Whenever we'd go to Europe I'd buy a book that had something to do with the country we were visiting. I'd read a lot about the World War II area, an interest of mine, and wanted something different. So I picked up a book on post-War Germany and read it on the flight over. The story of The Banker Spy literally came to me by the time I'd finished reading the book. Over dinner the next night, I outlined the plot to my wife. With some modifications and embellishments, it's the story you'll read in The Banker Spy.
Can you tell us about the story behind your book cover?
It's pretty straightforward. I wanted a cover, and a title, that conveyed a sense of the book to the reader. On the cover is a man in a suit, carrying a briefcase, and a woman holding binoculars, standing next to each other. This suggests (I hope!) the two principal characters are a man and a woman, and they have a relationship. The suit and briefcase conveys the banker and the binoculars, the spy. They're looking at landmark buildings, which gives the reader the idea where the book takes place.
What approaches have you taken to marketing your book?
I'm just beginning marketing and I'm very excited about my blog tour. I'm also asking friends and professional reviewers to post reviews about The Banker Spy. I believe that creating a buzz through word-of-mouth and posted reviews is the most effective way for an indie author, particularly one who's published an eBook, to generate interest.
What book on the market does yours compare to? How is your book different?
I really like Daniel Silva's work. I'm not comparing myself to him or his books. Silva's obviously an extremely successful author. I like that his books are set in Europe and he conveys a feel for the locale, particularly Italy. His principal characters are in a relationship and both are spies, although neither want to be. In The Banker Spy, the banker is dragged into espionage, just like Silva's characters get called back into service. My principal characters have a more complicated, at times adversarial, relationship than Silva's and it's not resolved at the end of The Banker Spy.
What would you say is your most interesting writing quirk?
I'm not sure if this is a quirk but I like delving into history as part of the story, perhaps in greater detail then most thriller writers. The Banker Spy draws on historical events and places. The past is carried forward and guides the plot. Even my characters are deeply influenced by their pasts. Oftentimes, I got lost in my research because I found the information so interesting. This isn't a historical novel, it takes place today and is very contemporary, but it has a strong historical basis and my characters experience the influences of history.
Open your book to a random page and tell us what's happening.
Since you can't flip open an eBook, I swept my stylus quickly along the bottom of my iPad's screen and wound up at the last page in chapter 21. Dayna, Peter's ex-fiancée and CIA agent, is talking to the CIA station chief in Berlin about the chancellor of Germany. Germany is in the midst of a national election and the chancellor is running for his second, and final, term. The race is close. Unknown to the German voters, the chancellor has a secret program to make Germany a nuclear power and reclaim the territory it lost after World War II. Dayna is tasked with stopping the chancellor. If she can come up with something bad from his past, he will lose the election and the German threat will end.
Do you plan any subsequent books?
I put a lot of thought into developing my principal characters, Peter and Dayna. I think there's good tension and a complicated chemistry between them (of course, I'm biased!) and I'd like to see how their relationship plays out. I planted the seeds for their next adventure in The Banker Spy when Peter, an investment banker, gets the assignment to sell the German automobile company that figures prominently in the story. I'm thinking about sending them to Mexico or South America, but we'll have to wait and see.
Tell us what you're reading at the moment and what you think of it.
I like reading a mixture of non-fiction (principally history and business) and fiction. I just finished Killing Lincoln, by O'Reilly and Dugard. The book conveyed a real sense of time and place. The authors communicated a great deal of information about Lincoln, the civil war and Washington, D.C. As O'Reilly said, it reads like a thriller. In fiction, my latest read was Daniel Silva's Fallen Angel. Just like his principal character, Silva paints wonderful pictures of his characters and locations. Just before that I read David Baldacci's (another favorite author of mine) The Innocent. Like Silva, Baldacci creates unique characters. Baldacci's books are fast moving and I like that much of the action takes place around Washington, DC, where I've lived most of my life.
~ ~ ~ Giveaway ~ ~ ~
Thanks to Tribute Books Blog Tours and the author, I have one ebook copy of The Banker Spy to giveaway. Enter using the Rafflecopter below.The giveaway will be open through November 26. The winner will be chosen randomly by Rafflecopter, contacted by email and announced on November 27, 2012.
ENTER TO WIN!