A Christmas Garland is the 10th of Anne Perry's Christmas stories, but only the second I've read. I understand the main character, Victor Narraway, has appeared in a minor way in other books of hers, but this is my first meeting with him.
Perry transports us to India, 1857. I know absolutely nothing about the Indian Revolution of 1857, so for me this short story was both an somewhat interesting mystery and a (very) brief history lesson from the viewpoint of the British involved. This story begins shortly after the Siege of Cawnpore and the devastating massacre that followed. A young medic, John Tallis, is arrested for helping an Indian prisoner escape, with a guard killed in the process. After escaping, the man gave the rebels information on a British patrol, and all but one of the members of the patrol were brutally killed.  It falls to young Lieutenant Victor Narraway to defend Tallis, but the expectation is that while Narraway will do what needs to be done, Tallis will be convicted – no one else could have been the accomplice – and the whole incident will be wrapped up by Christmas which is only a few days away. The problem is, Narraway is convinced Tallis is innocent.
The conclusion to the who dunnit is clever, a puzzle solution more or less, and I did like Narraway, his willingness to try his hardest to provide the best defense he can, but overall it's not a book I would have read if it didn't have "Christmas" in the title. But as a Christmas story, it is heart-warming. The sense of hope, even in the devastated town, is never lost, people can still depend on each other, there is always a light in the darkness.
I don't usually comment on covers, but I find this one a little deceiving. It does seem like India, at least on my second or third look, but it doesn't give the same feeling as the book does and the "Christmas Garland" in the story in no way resembles the greenery strung on the porch.
3 out of 5 stars
Category: Mystery
Amazon | Book Depository | IndieBound
Published October 30, 2012 by Ballantine Books
208 pages
Book source: For review
The Christmas Stories
A  Christmas Visitor
A Christmas Guest
A Christmas Secret
A Christmas Beginning
A Christmas Grace 
A Christmas Promise
A Christmas Odyssey
A Christmas Homecoming
A  Christmas Garland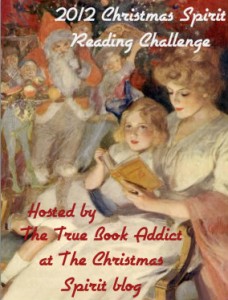 This is my second read for the Christmas Spirit Reading Challenge 2012 hosted by Michelle at The Christmas Spirit.