I've talked about "The Princess and the Pea" before, but in the delightful You Read to Me, I'll Read to You by Mary Ann Hoberman, we get a different look at the story. We get to hear a bit from the pea, who states,
I stayed up
the whole night through,
Squished and squashed
Because of you.
The adorable princess sees the pea's point of view and thinks it would be a grand thing for the pea to be the stone in her wedding ring.
You Read to Me, I'll Read to You: Very Short Fairy Tales to Read Together is cute book to read aloud with your beginning reader. Eight standard fairy tales are featured, including Cinderella, The Three Bears, and Little Red Riding Hood, and each tale, or portion of the tale, is set up as a poem to be read by two readers. I picture reading it with a child, but two children might enjoy reading it together too. One person's part is to the left and in orange, the other reader's to the right in a pinkish-purple and then each ends with a section in the center in blue for both to read. All of the stories have a slight twist and a happy ending, like in Little Red Riding Hood with Red, the wolf and Grandma heading out to a restaurant for lunch. In all the tales, the main characters are friends in the end, even if they start out as foes. It's light and cute and the rhyming lines are fun. I had to laugh a couple of times. The illustrations are simple, but colorful and I especially like the Princess from "The Princess and the Pea." She reminds me of Lilo from Lilo & Stitch.
It would be nice for the kids to be familiar with the fairy tales so they already know the characters and have an idea what's going on, but the end of each section does suggest reading the original.
But we can read
The old tale, too –
Cinderella –
Read it through.
You read to me.
I'll read to you.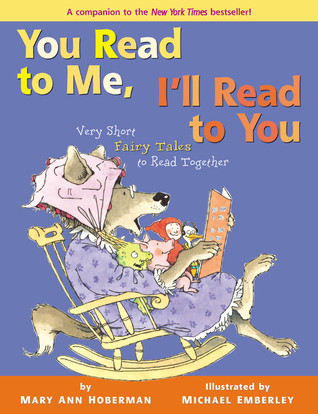 Title: You Read to Me, I'll Read to You: Very Short Fairy Tales to Read Together
Author: Mary Ann Hoberman
illustrator: Michael Emberly
Category: Childrens – Fairy Tales
Published: May 1, 2004
Rating: 3 out of 5 stars
Add: Goodreads
Purchase: Amazon  | Book Depository 
This book uses traditional reading teaching techniques (alliteration, rhyme, repetition, short sentences) to invite young children to read along with an adult. Eight short fairy tales fit on one spread and feature the characters and stories that children love best. With clear, color-coded typography and amusing illustrations, this collection is sure to entertain while encouraging reading skills and interaction with others. The fractured fairy tales include: The Three Little Bears, The Princess and the Pea, Billy Goat's Gruff, Cinderella, and more.
Thursday's Tales is a weekly event here at Carol's Notebook. Fairy tales, folktales, tall tales, even re-tellings, I love them all.