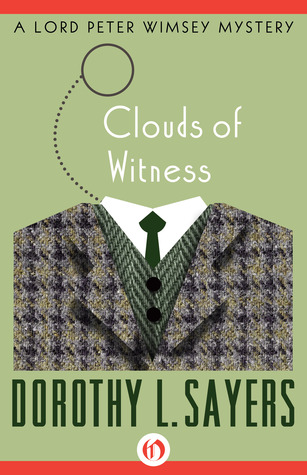 Title: Clouds of Witness (Lord Peter Wimsey #2)
Author: Dorothy L. Sayers
Category: Mystery
Published: July 31, 2012 by Open Road (First published 1926)
Rating: 3½ out of 5 stars
Add: Goodreads
Purchase: Amazon | Book Depository
After three months in Corsica, Lord Peter Wimsey has begun to forget that the gray, dangerous moors of England ever existed. But traveling through Paris, he receives a shock that jolts him back to reality. He sees it in the headlines splashed across every English paper—his brother Gerald has been arrested for murder. The trouble began at the family estate in Yorkshire, where Gerald was hunting with the man soon to be his brother-in-law, Captain Denis Cathcart. One night, Gerald confronts Cathcart with allegations about his unsavory past, leading the captain to call off the wedding. Just a few hours later, Cathcart is dead, with Gerald presumed to be the only one who could have fired the fatal shot. The clock is ticking, and only England's premier sleuth can get to the bottom of this murky mystery.
Clouds of Witness is the second in the Lord Peter Wimsey series by Dorothy L. Sayers and I did read the first last year, but thankfully this one stood on its own, since I remembered little from Whose Body? Wimsey is an aristocrat whose hobby is solving mysteries. The reason he takes up the case here though is simple, his brother ahs been arrested for killing a man and Peter quite obviously doesn't want to see him hung. Besides that, he truly believes in his innocence. Problem being everyone has secrets, of course, and none of the witnesses is telling the whole truth.
We see a fair amount of Wimsey's family, especially his sister who plays a major role, even though most of the problem is due to her "statements." I liked the way Peter goes about the investigation and of course his relationship with his butler, Bunter, is perfect. The ending of the mystery, however, left me feeling let-down, cheated, which is similar to how I felt at the end of the first one too. It was a lot of lead up to a "blah" solution.
The last scene too had me confused. Peter's drunk and in the middle of the street for no apparent reason, while Parker, his friend on the force, is asleep in a corner, I have to assume drunk too. Just odd. I didn't get it. It seemed out of character and didn't fit with the rest of the story.
I will say though that I just finished listening to #5 in the series, which is really good, whereas this one is just okay.
Lord Peter Wimsey Series
Novels
Unnatural Death
The Unpleasantness at the Bellona Club
Strong Poison
Five Red Herrings
Have His Carcase
Murder Must Advertise
The Nine Tailors
Gaudy Night
Busman's Honeymoon
Thrones, Dominations (unfinished manuscript completed by Jill Paton Walsh)
A Presumption of Death (by Jill Paton Walsh)
The Attenbury Emeralds (by Jill Paton Walsh)
Short Story Collections
Lord Peter Views the Body
Hangman's Holiday
In the Teeth of the Evidence
Striding Folly